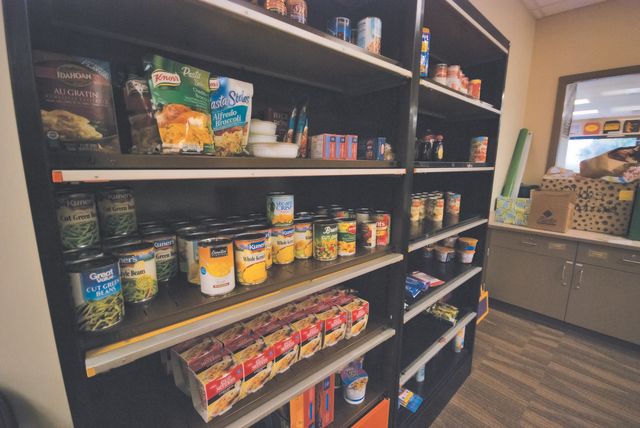 Nov. 2, 2015
Abbie Stillman
[email protected]
More students are using Clyde's Cupboard this semester than last semester.
Clyde's Cupboard is a student club that advocates for students who are in need of food and toiletries. The cupboard is open every Wednesday and Thursday from 10 a.m. to 5 p.m. in the Student Life and Leadership office, University Center room 102.
"We have had much more students come this semester than last. That is probably because we are working more on our marketing through handmade signs and our webpage," said Ryan Merrifield, Clyde's Cupboard vice president and graduate student in sociology.
Merrifield said they will continue to work on their marketing to bring in more students that are in need and that any kind of food donation is appreciated.
"We have an assortment of foods including breakfast foods, snacks and toiletries. Students can come in, show us their ID and help themselves to up to six food items," said Merrifield.
Students can only come in for food once a week.
Clyde's Cupboard has 14-15 shelves.
"Everything that has been brought in this semester has been taken which is really good."
"Our goal is to serve students who are struggling for food. College is a time many students are broke," said Merrifield.
Students can also volunteer their time at the cupboard.
"It is very easy to volunteer for Clyde's Cupboard and it can also count for community service. You can keep track of your hours online," said Clyde's Cupboard president Nicole Brown.
Sign in on Mountain Lion Connect and go to Clyde's Cupboard's portal. Anyone can volunteer online for an hour shift.
For more information, students can go to the SLL office and ask about Clyde's Cupboard or search "Clyde's Cupboard" on Mountain Lion Connect.