Sept. 9, 2013
Samantha Morley
[email protected]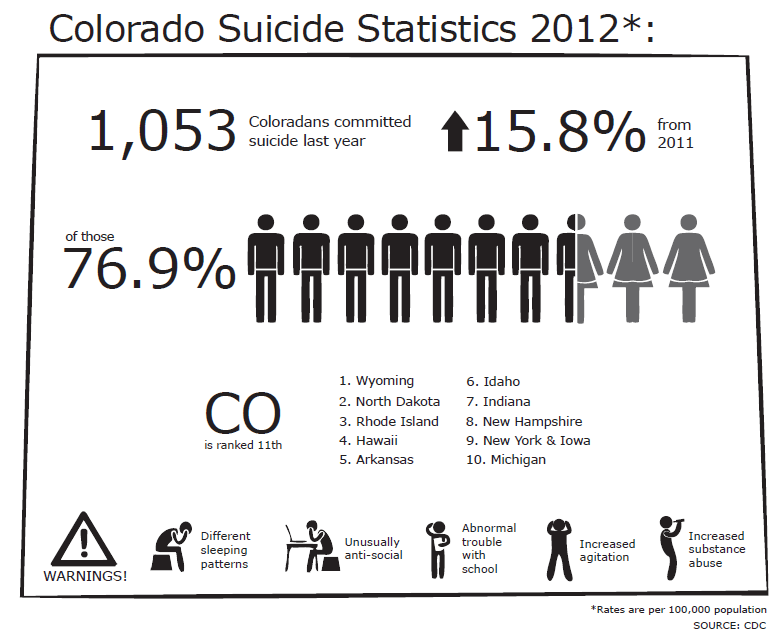 Colorado has been ranked among the states with the top 10 highest suicide rates for the past several years. This past year, the situation has worsened.
With World Suicide Prevention Day on Sept. 10, more and more people across the country and around the globe are focused on raising awareness about suicide so people in need can get help.
According to the state health department, Colorado's suicide rate increased by 16 percent in 2012 as 1,053 people committed suicide that year, the highest number since 1940.
Of those who took their lives, 76.9 percent were male and a majority working age (25-54 years old) who typically undergo great levels of stress, according to the Denver Post.
"Most people think it's teens, but it's actually not," said Sally Spencer-Thomas, CEO of the Carson J Spencer Foundation.
Spencer-Thomas started the foundation after the suicide of her brother, who suffered from bipolar disorder. The foundation now strives to provide tools for those who may be contemplating, or have attempted, suicide.
"One of the things that we first noticed when we [were] first founded was that there were a lot of great organizations doing really good work in the community, but they tended to all do the same thing," she said.
"So, we were very intentional from the get-go to focus on where the biggest needs were and where the biggest gaps were. The first gap was that the majority of the people who died by suicide are working-aged men."
In order to treat men, the Carson J Spencer Foundation, the public health department and Cactus, a Denver ad agency, partnered together to make mantherapy.org. The website targets men suffering from depression and thoughts of suicide.
"The goal of Man Therapy is to help men – especially high risk men – access these resources in a way that makes sense to them," Spencer-Thomas said.
By interacting with Dr. Rich Mahogany, a fictional therapist, visitors can determine which resources are the best to utilize.
Many men don't confront their stress and thoughts of suicide due to societal conditioning, Spencer-Thomas said. Because they internalize the stress, men often turn to substance abuse, social withdrawal and other behaviors that worsen the problem. "The final straw is access to lethal means," said.
"Firearms are the leading cause, which is right around 50 percent," Jarrod Hindman, director of the Office of Suicide Prevention based in Denver, said. "Second leading method is strangulation, third is overdose."
Hindman also realizes the military presence in Colorado plays an important role in the topic of suicide. He confirmed PTSD affects military members and can lead them to take their own lives.
"The VA hospital [in Denver] has really strong suicide prevention and so they do most of the outreach for Vets and active duty folks," Hindman said.
Military suicides contribute to the state rate if the soldiers are active duty members with residency in Colorado.
Some, like Spencer-Thomas, are working in the civilian world to increase their presence for military members. "It has been identified as a very big population of interest for the work that we're doing," she said.
Hindman also realizes the importance of increasing awareness in college communities.
Warning signs of a distressed college student is someone whose substance abuse patterns have changed, grades drop, sleep patterns change (sleeping a lot more or a lot less) or class attendance stops, Hindman said. He advised peers to be aware such changes on the part of fellow students.
Subtle cues someone is thinking of suicide are phrases like "maybe it'll just be better off if I'm not here" or "I don't know what tomorrow holds," Spencer-Thomas said.
"They'll do these big, veiled threats … that indicate that they're hopeless." She recommends that friends and family should try to get a person to professional help upon confirming he or she is contemplating suicide.
Overall, according to the National Institute of Mental Health, 80 percent of people who get professional treatment for their depression find relief from their symptoms. However, they will have to continue to manage the symptoms.
"But that's good news [because] we know treatment works," said Spencer-Thomas. She also advised those struggling to surround themselves with a support network that will help them through the tough times.
Hindman cautioned people that "if someone's talking about suicide, you take it seriously."