November 28, 2016
Halle Thornton
     A tiny slip of paper on your windshield usually means you got a ticket or someone is promoting their business. But this month at UCCS, students may find a slip of paper on their windshield that could make their day a little better.
     Alex Lewis, the founder of a project called Car Window Poetry, spoke to ENGL 3410: Poetry for the People about his movement on Nov. 16. The students in the class wrote poems and placed them on car windshields around campus.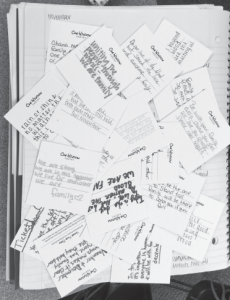 Lewis writes short poems on cards and puts them on car windshields as part of Car Window Poetry. The poet was inspired by flight attendant Taylor Tippett's Words from the Window Seat, where Tippett left inspiring notes on airplane windows for passengers.
     Lewis also shared his story with UCCS students at the Poetry for the People event hosted by ENGL 3410 students on Nov. 14. About 30 students, family and members of the community came to hear poetry from the students in the class and Lewis.
     The Scribe asked Lewis about Car Window Poetry and what it means to speak at a college campus for the first time as a recent college graduate.
     Q: How did you get in contact with UCCS/ (English) professor Kirsten Ortega?
     A: It was early October or late September and I just started emailing a bunch of elementary schools and college writing professors in the area, because for me, I loved the idea of getting to bring a bunch of people together to do the project.
     I love the potential of what it had to bring it into the classroom setting, whether that was with third, fourth, fifth graders or with college students.
     Q: The Poetry for the People event was the first place you were asked to be a keynote speaker. How was your experience?
     A: For me, I'd say at heart I call myself a storyteller, so I didn't want to just kind of get up and share poetry. I think there's value in that, but I think part of me being there was inviting the audience into my story and hopefully the audience to see themselves in some aspects of what I share.
     Q: What brought you to Colorado Springs?
     A: I was out in Colorado Springs two months ago working with Young Life as a social media and communications intern (from Elon University). I kept in contact with people there and about a month before graduation, I got a call that a digital marketing specialist position opened up.
     It was nerve-wracking, but it was this excitement that I'm going to a beautiful city and am going to do something that I love for a purpose that I love.
     Q: What inspired you to create Car Window Poetry?
     A: I met this guy named Chris who happened to be a writer and who did a lot of poetry.
     We ended up getting beers one night and I was just talking to him and inviting him into my story a little bit, talking to him about things I was passionate about.
     I shared this desire to create a platform that allowed people to create and feel encouraged in their creativity. He said he was in this small poetry group that this girl started. I went and that was the first time I really shared my poetry in front of people, and they seemed to like it.
     Then I went to a poetry slam and it was incredible. It was a time where I got to share some of my poetry and hear kids speaking from these really deep places. I left there really inspired.
     At this time, I was also listening to a lot of podcasts and [storyteller] Branden Harvey, [who was] someone I got connected through Young life with one night on my way home, and it left me with this feeling, this insatiable feeling to do something.
     So I thought, "I have a bunch of cars around me and that's where we spend a lot of my time." I thought what it would look like to leave poems on these car windows, and that night I was like, "I'm doing this.