Mar. 14, 2016
Joe Hollmann
[email protected]
The national general election is still more than seven months away, but UCCS' own student government elections start this week.
According to SGA advisor Sabrina Wienholtz, there is a continued increase in student involvement in both running as a candidate and voting in the election. But among the student body, there seems to be a lack of awareness of the elections.
Wienholtz said that voter turnout has increased every year for the last five years. In 2015, 1,879 students, or 17.85 percent of the student body, voted in the SGA election.
"We anticipate voter turnout will be even better than last year," said Wienholtz.
Although more students are running in this year's election, other students had varying opinions on awareness of the election.
Freshman business administration major Eric Frank voiced that he was unsure of who the candidates were.
"I don't know any of them and haven't looked into it," said Frank.
If Frank did vote, he explained why he would or wouldn't vote for certain candidates.
"I wouldn't vote for (a candidate) if they are wasting my money on weird clubs," said Frank, adding he would vote for candidates who are more down to earth.
Junior computer science major Annelise Lackey spoke to her awareness of the election's date.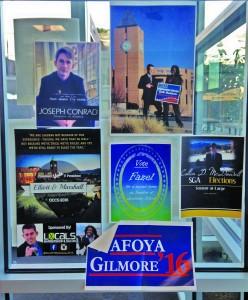 "I didn't know it was next week, but I did know it was coming up," said Lackey.
Students who do not spend much time on campus may also be unaware of the election's proceedings.
"I'm not on campus enough to really pay attention," said sophomore nursing major Caitlin Eells.
Freshman sport management major Kylan Rogus said he is not aware of the student elections.
"There sure does seem to be a lot of advertisements around though," said Rogus.
One way candidates distinguish themselves is through advertisement, which have been in the grass along the Spine and on various social media outlets.
"I saw one with a cute dog," said Cassidy DeJong, sophomore elementary education major, commenting that particular advertisement was the only memorable one.
Wienholtz said that the two fees on the ballot will also bring students to vote in the SGA elections.
"I think having two fee initiatives on the ballot will help drive voter turnout this year," said Wienholtz, referring to the athletic fee and University Center bond fee.