UCCS remains the only university in the CU system with a minimum wage below $15 an hour, but a union has been working to amplify the "Fight for 15" and encourage the administration to increase the wage for all employees across campus.
United Campus Workers Colorado — a union for the whole CU system — delivered their petition in support of a $15 minimum wage to the Office of the Chancellor and invited students to a rally on April 6.
UCW started the petition last September on Labor Day and reached over 1,000 signatures in just six months as part of the "Fight for 15" campaign.
Eilex Rodriguez, a graduate student and member of UCW Colorado, said that they have had to work multiple jobs to make ends meet, as on-campus jobs provide insufficient pay to students.
"I work as a writing fellow, and I make $13.75 an hour for 70 hours a semester, which is not livable at all," they said. "I know other writing fellows and people in dining hospitality, which I used to work in, who are making below $15 — usually the bare minimum of $12.32."
"If the school wants to acknowledge how important its students are, they have to invest in us," said Alekx Schneebeck, a UCCS graduate and member of UCW Colorado. "One way of doing that is investing in higher wages."
     Before delivering their petition, UCW Colorado met outside the Kraemer Family Library for students to share their stories and provide testimonials for the "Fight for 15" campaign.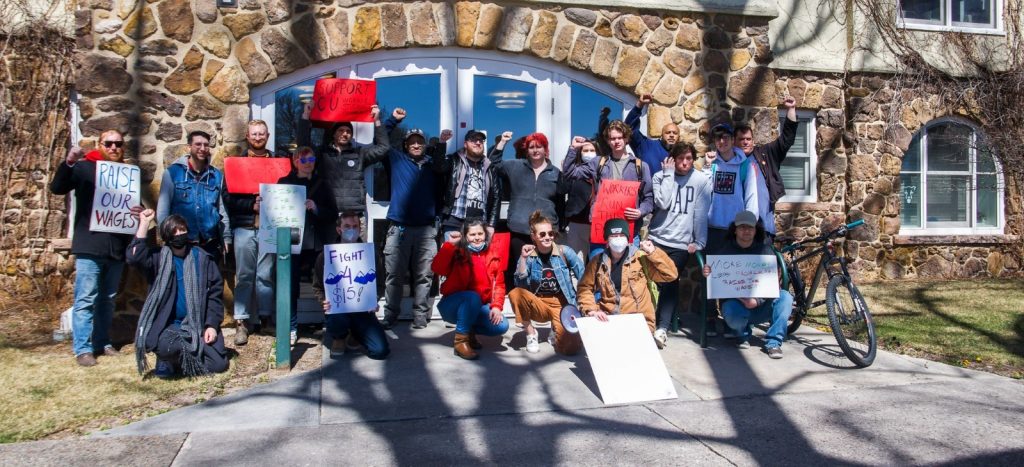 Aidan Clark, speaker of the senate for SGA, endorsed the petition, explaining that multiple students have approached SGA in the last year to express their concerns about no longer being able to afford to work on campus.
"[This] causes them to get jobs off-campus that may not be as accepting of their school schedules, which harms their ability to focus on academics," Clark said. "This should be a concern for the university because it harms their retention rate. … If students can't afford to work here, they'll have to drop out."
Taylor Vallance, a WEST major and RA on campus, also came to endorse the petition. "Your RAs are severely underpaid," Vallance said. "We get free housing, which is a huge thing here in Colorado Springs, and a dining plan for only one dining hall across campus … [there] is no other payment of any sort."
As a disabled student, being an RA has posed some issues for Vallance, as they have no additional income to pay for costs like medical care and phone bills but need to live on campus to continue their education.
"We can't work more than 10 hours off-campus without facing penalty, probation and possibly firing," they said. "I'm asking [this campus] to do the bare minimum by meeting this $15 minimum wage, and perhaps match the other CU campuses by providing a small stipend to its RAs."
Following these brief testimonials, UCW Colorado led students in a march to the Office of the Chancellor, where they delivered their petition to Vice Chancellor of Student Affairs Carlos García in place of Chancellor Venkat Reddy, who was not on campus.
"For fiscal year 2022-23, which starts in July, we have in our budget [plan] to increase the full-time staff to at least a $15 minimum wage," García said. "Where we're still struggling is how to do that for our student employees."
Students interested in signing the UCW Colorado petition in support of the "Fight for 15" campaign can find it on the UCW website.