19 March 2019
Christina Cleveland
    Gwendolynn de Graf, a junior majoring in sports management, worked with the Club Sports department and with Student Life and Leadership to begin a Figure Skating Club on campus in fall 2017.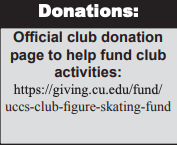 Now president, De Graf says she started it to "create a place where college students to continue or discover their love for skating while still be moving forward in their education."
    The club currently consists of 12 members that compete in over 30 different events throughout the season.
    The club treasurer, Thomas Schwappach, a junior majoring in accounting, described intercollegiate skating as a whole different animal compared to traditional competition, and said he enjoys the team aspect that it provides.
    Schwappach said, "having a team in your corner where everyone is in full support of each other, competing against other schools without keeping it too serious brings the fun back into skating."
    Intercollegiate competition is divided into three different regions across the country: Eastern, Midwestern and Pacific Coast. Their competitive season runs from October through April, where teams across the country will compete in three different competitions within their given region. The top four teams in each region go on to compete at Intercollegiate Championships.
    Last year, the UCCS team missed qualifying for nationals and ended their season ranked No. 5 in the Pacific Coast region.
    The club was initially composed of two teams, one being competitive and the other being recreational. But at the start of last season, the club leaders realized they needed to make changes if they wanted to qualify for the 2019 Intercollegiate Championships.
    As a result, the club discontinued their recreational team so they could put their focus towards their competitions throughout the season. They also were able to double the size of their competitive team, which allows them to compete in more events at each competition they attend.
    The team topped the podium at their first competition of the season, which was held at Colorado College last November. In February, the team traveled to University of California, San Diego for their second competition of the season, where they placed second.
    The third competition of the season was held at University of California, Los Angeles. Heading into the competition, the club sat in second place in their region, and needed to finish in the top four at UCLA in order to qualify for the Intercollegiate Championship. The weekend ended with a third place finish, which solidified their place in the championship bracket.
    One of the biggest challenges the team still faces is raising enough funds to cover their ice time and travel for competitions. Because they are a club sport, the majority of their funding comes from fundraisers and their online donation page. As treasurer, Schwappach said he tries to keep a balanced budget, though the cost of traveling to three competitions throughout the year does add up.
    The team has until April 12 to prepare for the Intercollegiate Championships, held at the University of Delaware, where they will compete against 12 other teams from universities across the country. De Graf said their goals for their first year at nationals are "to go out and have fun, take in the experience and put ourselves on the map."