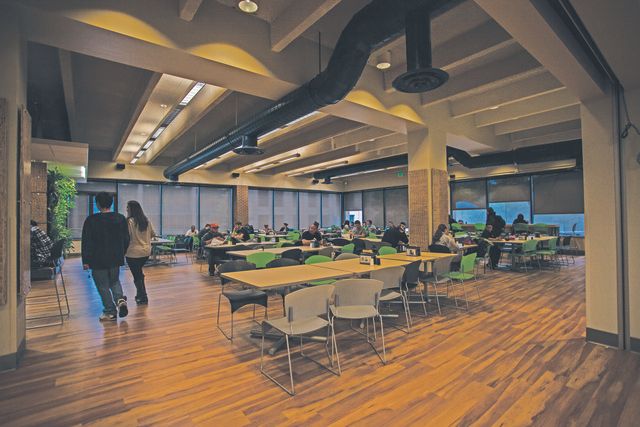 Oct. 5, 2015
Evan Musick
[email protected]
UCCS and Sodexo food services parted ways in May 2014.
Now, UCCS Dining and Food Services takes their place and has changed the way the university is served.
The transition was difficult, according to Russ Saunkeah, executive chef and associate director of Dining and Food Services.
"Obviously it was a challenge, because Sodexo had a lot of corporate programs," said Saunkeah. "All of that went away, so we had to start from scratch. And there wasn't a lot of time to do it. It was fast, it was really fast."
Saunkeah was Sodexo's former catering manager and general manager for 13 years. He explained that a lot of help was received from CU-Boulder to set up new systems and recipes.
UCCS Dining and Food Services receives their food through Sysco, a foodservices product distributor.
"Sysco is what they call a broad-line distributor. They carry everything from paper goods to meat products and everything in between," said Saunkeah.
Saunkeah emphasized that Colorado goods are ordered as often as possible, whether it be grown, packaged or processed.
"We have some guidelines that are fairly stringent really, and our first priority, obviously, is to do the business with Colorado companies," he said.
Cheeses from Haystack Mountain Goat Dairy, ketchup from Elevation Ketchup, local beer and local coffee are a few examples.
Mark Hayes, director of Dining and Food Services, explained the balance between choosing local products, organic products and generally healthier products.
"We kind of prioritize. If we can find local, and it may not be organic. If it's a farm, it might be handled organically, but they're not certified organic, because it costs a lot of money to do that," he said.
Hayes explained that products can now differ between dining locations on campus. While ketchup in Clyde's is provided by Elevation Ketchup, at Roaring Fork Simply Heinz is used, a high fructose free version of Heinz's regular product.
Decisions such as this are possible due to the new structure of Dining and Food Services.
"That's one of the big differences, I think, from the sub-contractor model," Saunkeah said. "We have much more control of the product mix that you have."
The coffee shops at UCCS are also set for changes, a new name being one of them. Although Hayes could not divulge the new name, it has received a copyright. The name was created by a committee of faculty and students and has a historical tie to the campus.
UCCS receives their coffee from Elevation Coffee Traders, based out of Englewood, Colo. There are possible plans for the coffee shops to sell this coffee whole bean.
A project that will take place in the next two to three years is building a stand-alone coffee shop on campus where the basketball court is located next to Columbine Hall. Hayes also mentioned the possibility of Dining and Food Services roasting their own coffee.
Dining and Food Services also works with the greenhouse at UCCS. Hayes explained that every Tuesday and Wednesday, the Food Next Door station, which is located in Café 65, is mostly stocked from the greenhouse. Meats and grains mostly from Colorado also fill the station.
Hayes added that some of the grains are not available during certain times of the year, and have to be sourced elsewhere.
In the winter months, when the growing season changes, Hayes said they will partner with local farms to provide other products, resulting in a seasonal menu.
The garden isn't the only place Dining and Food Services will be receiving more food from.
Sea to Table is a "sustainable seafood organization that works directly with fisherman in the U.S.," Hayes said. "Essentially, the boat pulls in, they process the fish, box it, and ship it directly to campus overnight."
The accountability of Sea to Table allows the buyer to know what boat caught the fish and where it was caught.
Hayes said the partnership with Sea to Table will start mid-October.