April 25, 2016
Hannah Harvey
[email protected]
Respect on Campus held their fourth annual "Take Back the Night" event on April 21. Hosted to recognize Sexual Assault Awareness Month, ROC coordinated with the Office of the Dean of Students and the Wellness Center to put on the event.
Three speakers who had personal ties to sexual assault in some way included UCCS psychologist Trent Claypool, TESSA interim advocacy manager Kristy Bootes and UCCS alumna Ashley Coffey. Pizza, drinks and door prizes were also handed out.
Claypool, a staff psychologist for the Wellness Center, presented ways that students can help people they know who have experienced sexual assault or sexual violence.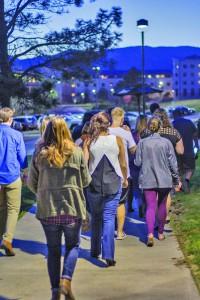 He also emphasized the importance of empowering survivors and validating their experience to help them feel safe.
Coffey discussed her experience as a mental health counselor. Coffey said she works with teenagers impacted by sexual assault and domestic violence. Helping others to work through the experience and find a solution is important, according to Coffey.
"The price we pay to live on this planet is to serve," she said.
In Bootes' presentation, she talked about her experience as a victim advocate when she was in the military, and how TESSA can be a resource for those who have been impacted by violence.
"Take Back the Night" is an international event that has been around since the 1970s. It was started by women in Vancouver, Canada who wanted to protest flawed logic regarding rape culture, according to student Ethan Wade, outreach and awareness coordinator for Respect on Campus.
"The idea was that instead of people teaching our young people not to commit acts of sexual violence, they would teach women to be afraid to go out alone in public at night, so these women in Vancouver decided they would take back the night figuratively," said Wade.
ROC is UCCS' sexual violence outreach and prevention program, and awareness is critical, according to Wade.
"The best predictor of a victim's recovery process is going to be from the person they disclose the information to, so it's super important for people to be aware of these things."
At UCCS "Take Back the Night," two to three speakers share their experiences with sexual violence and how to handle situations involving sexual assault. Marching follows the presentations, fit with picket signs. A moment of silence for those who have died because of sexual assault and violence follows, according to Wade.
Wade said marches happen nationally and are usually hosted by rape crisis and violence shelters.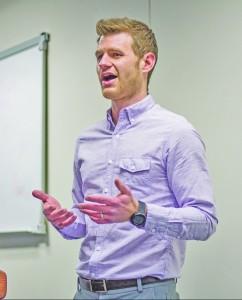 At this year's event, participants marched from the University Center to the cluster of dorms surrounding Columbine Hall shouting various chants about ending rape culture.
After the march, participants gathered around the Clyde statue for a candle light vigil to hear sexual assault statistics.
Of these statistics, it was shared that one in five women and one in six men have been affected by sexual assault or domestic violence. In Colorado, these numbers are three times higher.
"Everybody knows someone who has been sexually assaulted or been in some kind of abusive relationship," said Wade.
While the event itself has not changed, the way in which students conceptualize rape culture and sexual assault has, according to Wade.
"In the last few years, the university has done a lot to educate students, so there have been a lot more people aware," said Wade.
For more information on sexual assault or ROC, visit uccs.edu/~roc/.