Mar. 7, 2016
Halle Thornton
[email protected]
Among the several hikes students can take at UCCS, one trail has been around before UCCS was a university.
The "Happy Trail" is one of the many trails on campus, but it has a special historical background.
UCCS was originally the Cragmor Sanatorium, a facility for the ill that operated from 1906 until the late 1930s. During this time, a trail was created to encourage physical activity of tuberculosis patients.
Students, faculty and staff still use the trail for recreational activities, including hiking and biking. Many courses also use the trail for geology and geomorphology field trips.
The original "Happy Trail" was a 3.5-mile loop around the bluffs, but only part of the trail remains today.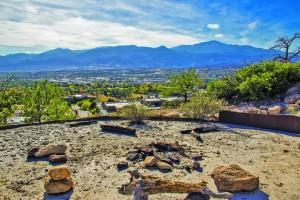 The trail gauged how well patients were progressing with their treatments, and the patients who were able to complete the hike referred to the trail as "happy." Markers on the trail indicated how far patients had traveled.
Trails and outdoor coordinator Andrea Hassler said the trail was primarily used for hiking, though there are stories of "romantic dalliances" along the trail, which contributed to the trail's name.
The trail has never been formally designated or maintained.
Some of the trail users on campus now refer to the main trail that runs along the ridgeline of the bluffs as "The Happy Trail," though this is only partially true, said Hassler.
"The trail along the ridgeline was actually created as a partnership between the UCCS ROTC program and Penrose Hospital in the 1980s."
The trail is also relevant outside of campus. Archives librarian Mary Rupp explained that the "Happy Walk" was mentioned in Douglas McKay's book "Asylum of the Gilded Pill," published in 1983.
McKay took inspiration from the days of Cragmor Sanitorium, according to Rupp.
"Dr. McKay gleamed information from patients' papers (correspondence and diaries)."
But UCCS does not have any of the Cragmor Sanitorium patients' information in its archives. Those came to McKay from other sources, Rupp said.
The various paths around campus have been reconfigured several times through the 80 years since the sanatorium was in existence, according to Rupp. Based on this, the exact path or the locations of the landmarks described by McKay are unknown.
UCCS is hosting a Volunteer Trail Service day on April 30 where restoration of the Happy Trail, among others, will take place.