Sept. 23, 2013
Attiana Collins
[email protected]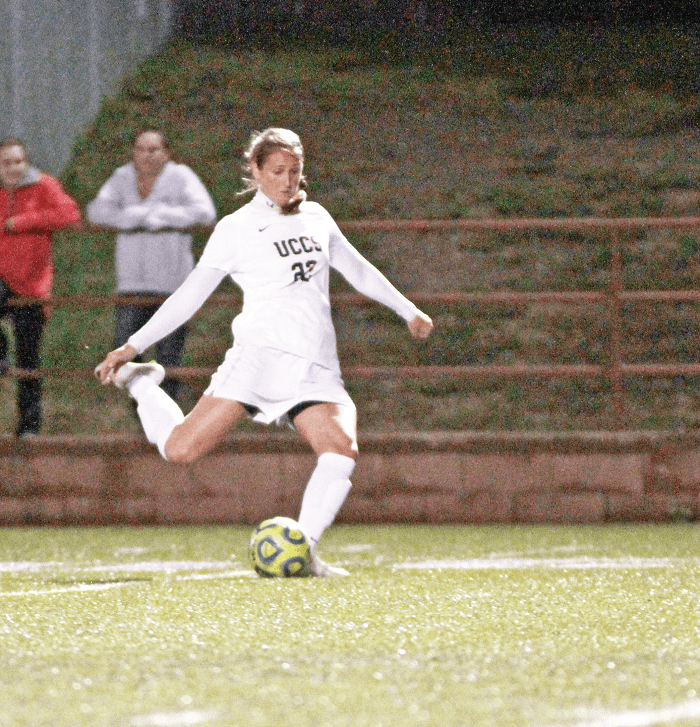 She started off staring at midfield, watching others play when she was five. Now, senior Agnes Arnadottir is the career record-holder in game-winning goals for the UCCS women's soccer team.
This season, Arnadottir is also on pace to break the UCCS career records for points per game (1.06) and goals per game (.417).
After being recruited to the University of Rhode Island to complete her undergraduate degree, she moved to Colorado to attend UCCS and pursue her master's degree in sports nutrition.
"There aren't a lot of schools with good sport nutrition programs. Colorado had one of them, and when you look at it, not a lot of these schools had soccer teams and I wanted to play soccer, too, so I just called the coaches and tried to make them recruit me," Arnadottir said.
Arnadottir was recruited to UCCS as a goalkeeper but changed positions when Head Coach Nichole Ridenour saw that they didn't need that position as much as they needed a goal scorer.
"She came from the University of Rhode Island, so we didn't know she was here, but she emailed and contacted us to see if there was room on the team and if we were interested. She adapted adequately, and this year she's doing very well," Ridenour said.
Not only can Arnadottir change positions, but she also brings determination and leadership to the team.
"Maybe someone will want to cut corners and only do 10 pushups, instead of 15, she'll call you on it. She holds that standard. She's really good," Ridenour said.
While in Iceland, Arnadottir played on the Under-17 and Under-19 Icelandic national teams as a defender. She was captain of the Under-19 team for one game against Germany in the 2007 European Championships.
"It was a great experience. You know how they always play the national anthem here before games? They don't do that in Iceland, they only play it before national team games. It's such a pride to be there, in your national uniform, playing for your country," said Arnadottir.
Soccer in America has a different style than other countries, according to Arnadottir.
"If you watch England play, it's more about playing, building up your offense from the defense," said Arnadottir.
"So, even when you're a defender, you're already participating in offense more than, for example, we do here. It's more like you get the ball. You're almost not allowed to pass it backwards. Here, you go forward."
The biggest difference between the United States and Iceland off the pitch for Arnadottir is freedom.
"I was babysitting my nephew and niece this summer, they're 8 and 10, and they had to be in at 10 at night. You can just be outside. It's bright in the summer all day and all night, Arnadottir said.
"There's more freedom. Everyone is just outside playing soccer. It's not as restricted and there aren't so many dangers. I'm very happy that I got to grow up there."
Arnadottir's motivations are winning and having friends. After moving to Colorado from Rhode Island, she didn't know anyone and was grateful for the friends playing soccer provided.
"After preseason, you already have a base friend group of girls that are interested in the same things you are. It's very nice to have something like that when you go somewhere absolutely new," she said.
Catch Arnadottir and the rest of the UCCS women's soccer team on Wednesday, Sept. 25 at 7 p.m. at Mountain Lion Stadium as they plan Colorado Christian.