Sept. 28, 2015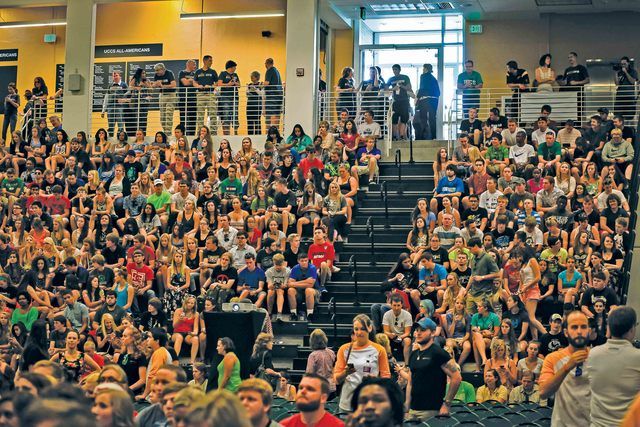 Audrey Jensen
[email protected]
Starting with the class of 2018, freshmen and transfer students enrolled with less than 30 credits have been required to take freshmen Gateway Program Seminar, in order to graduate and complete the newly named Compass Curriculum.
Due to a high enrollment rate in the old freshmen seminar (85 to 90 percent), faculty and staff from all departments voted four years ago for GPS to become a required course, according to Constance Staley, communication professor and director of GPS.
"It's not a full course, but it's an introduction to things like what university education is and why it's important, things like civil discourse in class, sometimes you have to kind of learn by trial and error but we try to teach them very directly," Staley said.
Staley said that nationally, around one-third of students drop out during their first year of college and the key to retaining those students is the first semester, which sets the tone for their experience.
Freshman and mechanical engineering major Patrick Ward is taking "Top Gear," one of the freshman GPS courses.
"I feel that it helps a little bit and that it gives you an easy grade for your first year, it kind of gets you accustomed to how college is going to work," he said.
"I honestly like it as required because there's a lot of getting introduced to other freshmen in the class, I think it has a lot of benefits to make it mandatory."
This fall is the second year of both the Compass Curriculum and GPS.
"It's because basically (GPS) is the foundation course for the compass curriculum, which goes with the theme GPS, navigating through college," said Carrie Arnold, assistant director of GPS.
Since last year, the number of GPS courses increased from 39 to 42.
"The way we see it, students are more active learners," Arnold said. "You guys don't learn the way we did 20 years ago, it's very different. Most of you are kinesthetic learners."
Ward thinks his GPS course could use improvement.
"I would make it a little bit more intensive, it feels a little too easy, I feel like I'm not getting too much out of it as far as education goes. Other than that I think it's a pretty good idea."
Staley and Arnold said they are working on a GPS course for non-traditional students they hope to have available by fall 2016. A course for veteran students is already in place.
"Despite (non-traditional students) being out of school for a long period of time, we can still give them the academic piece, but their social piece is going to look a lot different," Arnold said.
Arnold added that in 2012-13, 1,225 students were enrolled in freshmen seminar and the total number of freshmen enrolled was around 1,400. In 2013-14, the number of students enrolled in freshman seminar increased by 100 from 2012-13. By 2014, when GPS became mandatory, 1,666 freshmen signed up.
This year, 1,775 students are enrolled.
"The purpose of revamping the entire curriculum was to be able to have students kind of learning in different ways and impactful ways," Arnold said.
"There's no one size fits all, many students think I'm glad I got to start my college career with this kind of experience," Staley added.
For more information regarding Compass Curriculum and freshmen GPS, students can go to http://www.uccs.edu/compasscurriculum/.