Last year, the disappearance and murder of Gabby Petito drew mass media coverage and sparked national outrage — unlike many cases involving missing and murdered Indigenous people, including Nada Fronk.
On Nov. 7, the UCCS Criminal Justice Department hosted Nada's father, Monte Fronk, for an event titled "HONORING Nada Fronk: A Native father's experience with his missing and murdered Indigenous daughter."
Monte Fronk is an emergency management coordinator for the Mille Lacs Band of Ojibwe in Minnesota who shares his daughter's story to spread awareness of the national crisis of missing and murdered Indigenous people.
Many students attended the "Honoring Nada Fronk" event, filling the large lecture hall in Centennial. Anna Kosloski, associate professor and criminal justice program director, opened the event by reading the CU systemwide lands recognition statement and introducing Fronk.
According to Fronk, Nada's teen years were marked by behavioral challenges, abduction and sex trafficking. After reuniting safely with her father and finishing her high school diploma, she had the chance to step into young adulthood and begin her life again. In 2021, at the age of 24, she was murdered by her boyfriend.
"She was passionate, she was resilient, she was strong," Fronk said.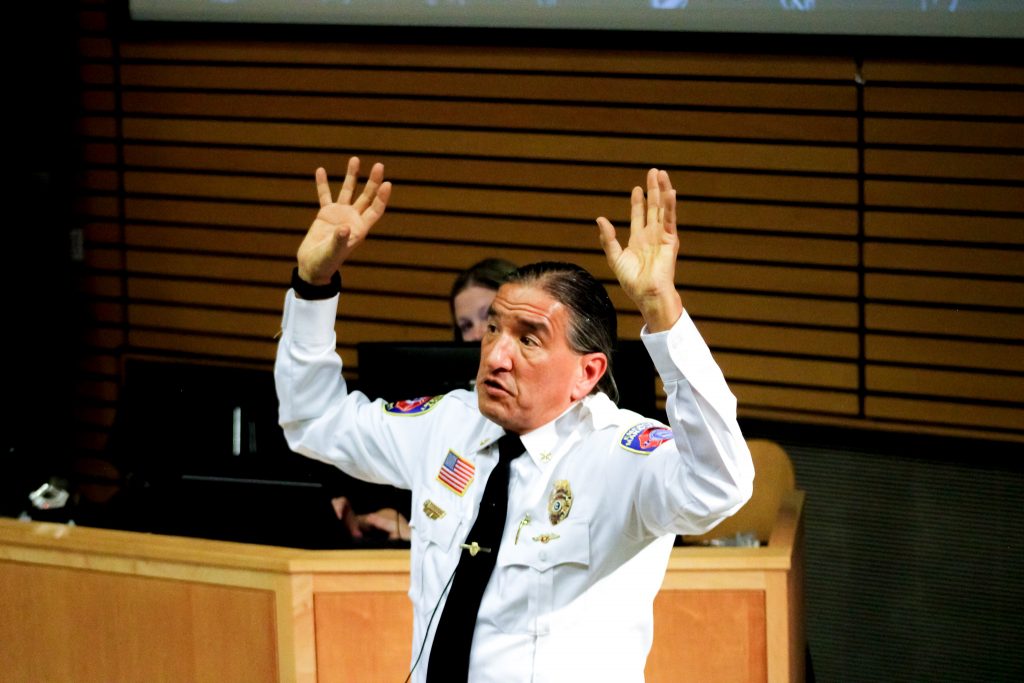 Fronk said that when he and his partner adopted Nada as a young teenager, they were given very little information about her history. She was diagnosed with second-generation fetal alcohol syndrome which resulted in a lack of impulse control. This diagnosis cannot be treated with medication or therapy and led to her displaying "attention-seeking behavior" that ranged from angry outbursts to attempted suicides.
When repeated behavior endangered Nada and her family, she was sent to treatment facilities. However, Nada would run away from these facilities and was labeled an "endangered runaway."
Fronk turned to the National Center for Missing and Exploited Children whenever Nada went missing, and the NCMEC created a missing person flyer for Nada each time. Fronk also relied on his network of public safety professionals, who displayed Nada's flyer in their offices and reported any leads to Fronk.
From ages 14 to 16, Nada was abducted and sex trafficked and a photo of her was used to advertise sexual services on back-page websites. Although her location could not be tracked, officers kept tabs on the sites where the photo was advertised.
As long as the photo was being advertised, there was a good chance that she was alive, but when she was 16, the photos were taken down. For almost a year and a half, there was no mention of her on any back-page site. Fronk prepared himself for the worst-case scenario.
Fronk anxiously awaited information that could lead to the location of his daughter. Eventually, a possible sighting was reported and police found Nada in St. Paul, Minnesota. In an interview with a school resource officer, Nada reported that her abductors physically abused her, punching and kicking her in the abdomen, kidneys and back to control her.
Nada enrolled in a technical college and graduated with her high school diploma in 2020. Fronk recalled a conversation with Nada after her graduation in which she said, "Dad, the only reason I am alive is because of you. For everything I did to make you and mom give up on me, you never did."
Nada lived in Twin Cities, Minnesota, until May 2021, when she was shot multiple times at her apartment by her boyfriend, who then committed suicide.
Fronk celebrated his daughter's life with a traditional four-day Ojibwe funeral.
In the U.S., there are 580 federally recognized tribes. The FBI's National Crime Information Center reported 624 missing Indigenous women and 930 missing Indigenous men in 2021 alone, while the U.S. Bureau of Indian Affairs reports approximately 4,200 unsolved cases of missing and murdered Indigenous people.
Nada's case only garnered ten minutes of news time in the media, significantly less coverage than non-indigenous missing and murdered cases. By sharing Nada's story, Monte strives to spread awareness of the epidemic of missing and murdered Indigenous people.