January 31, 2017
Hannah Harvey
     On Jan. 30, after working through software delays, Parking and Transportation Services implemented a system to track illegally parked cars for all permit-required lots on campus.
     This $60,000 system, which currently sits on top of one Parking and Transportation vehicle labeled "Parking Enforcement," has two cameras with a 3G data transmitter that reads license plates to make sure each car is registered.
     Parking services hopes to have the license plate recognition program in full effect starting in the fall of 2017. Permit tags will no longer be sold or displayed in cars; students will register their license plates instead, according to executive director of Parking and Transportation services, Jim Spice.
     Departments will still be able to buy plastic tag permits for their visitors during the day, said Spice.
     The license plate recognition program will cost an additional $5,000 per year for software support.
     The system, which allows students to register five vehicles under one registration, was only recognizing the primary license plate that belonged to the owner and not its additional registered cars, according to Spice.
     BOSScars, the parking management company that handles the tag permits distributed on campus, had issues connecting the license plate recognition system to UCCS' permit-based software, said Spice.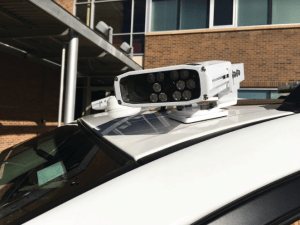 "We're still working with BOSScars. They're permit-based, not license plate-based, which is why things are being held up," said Spice.
     Spice expected the software delay to be resolved by Jan. 30.
     "The cameras only read license plates, so they rely solely on the data you give them to say, 'This plate has been paid for.' It'll read the plate, but it won't know what to do with it unless you tell it that 'This license plate has this permit,'" said Spice.
     "There will be no other way to tell who has paid for what plate unless it's through the system."
     If the license plate recognition system is down, students will not be aware of this, so cars without registered license plates will not be able to park on campus, said Spice.
     No failsafe system will be in place once the office goes permit-less, according to Spice.
     Student employees will still write tickets for parking violations while Parking and Transportation will continue to test the new system through the end of summer.
     "(The system) takes us about 90 minutes to go through all 4,000 permitted spaces. On foot, it would take one person 33 hours to hit all the spaces," said Spice.
     In the fall 2016 semester, 8,500 parking permits were sold to students alone. Students, faculty, staff and visitors spent $500,000 total on visitor parking, enough money to pay for the construction of one parking lot, according to Spice.
     Cutting costs was an important reason for the office to implement the new system, said Spice.
     Last semester, 12,300 tickets, or $246,000, were handed out to students for violating parking rules, but 25 percent of these tickets are voided, said Spice.
     "Any (ticket) revenue we take in goes to the Family Development Center for scholarships," said Spice.
     Spice estimated that $15,000-$20,000 of ticket revenue was given out in scholarships last year.
     Students who do not register more than one license plate could pose a challenge for parking services once this system is fully implemented, said Spice.
     "Just like we do with a permit, students will get one void per semester for forgetting it (the permit) in their other car," said Spice.
     Last semester, most permit owners registered one vehicle, not multiple, which has caused software integration issues, said Spice.
     Only one car is allowed to be parked on campus while the permit is in use.
     Weather conditions, like snow and system glitches are additional challenges that Parking and Transportation are preparing for.
     With the integration of this system, the visitor parking pay-by-spot system will also change.
     Instead of paying at an electronic station for a paper permit, patrons will enter their license plate number and receive a virtual daily or hourly permit.
     Pay stations will remain in level one in the Alpine Garage and level three in the Gateway Garage located next to Columbine Hall.
     Parkers will be prompted to pay to increase their time through a mobile app or a smartphone.
     More information on the license plate recognition system can be found at uccs.edu