4 September 2018
Israel Wheatley
    With things like hiking, shopping and cozy coffee shops, Colorado Springs offers just about everything anybody would want, but sometimes it can be good to go out and explore other local spots.
    This is where the small, but unique mountain town of Manitou Springs serves its purpose.
    So what can you do in Manitou?
    Just west up a narrow road at the end of the main Manitou strip, you'll find the Incline, the area's most popular early morning attraction.
    Some wake up before sunrise just to hike the intense slope, which elevates over 2,000 feet in less than one mile. Anytime later than 8 a.m. and you may find yourself directly in line with the rising sun (in this case don't forget your sunscreen.)
    Back down the main strip, you'll find plenty of artisan shops. To name a few: The Olive Tap, dedicated to selling specialty olive oils and balsamic vinegars; Theo's Toy Shop, a vendor of unique, nostalgic toys for all ages; and La Henna Bohème, where you can get henna body art, chic clothing, jewelry, tarot cards and more.
    According to Jasmine Dillavou, who works at La Henna Bohème, Manitou is enjoyable, because of its small size and creativity.
    This contrasts with bigger cities that are nothing but stop and go.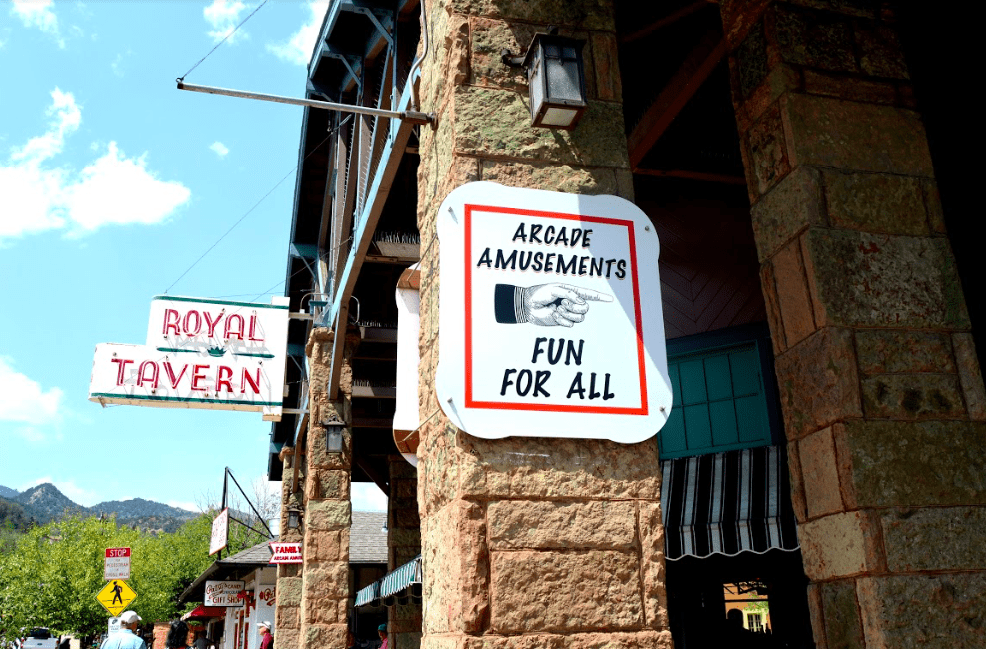 "Other cities that are, like, bustling really fast and then they get really overwhelming," said Dillavou.
    You can immediately get a sense of Manitou's creativity upon entering the town as you are greeted by Colorado Ski Furniture, which sells, as the name implies, furniture made from skis.
    Despite the calm lifestyle of Manitou residents and shopkeepers, the town has become a hot tourist destination for people from every corner, both nationally and internationally.
    "[In the winter and the fall time], it super mellow out here, and it's, like, really, really chill and quiet," said Dillavou.
    In these seasons, the town hosts more local patrons as opposed to the summer, when kids are out of school and families vacation from all over the country.
    "It's almost crazier than the Springs," said Dillavou, regarding Manitou in the summertime.
    Another popular tourist spot in Manitou is the Penny Arcade, a retro-style arcade area with games from many decades back. This is great for children and adults alike, for those looking for both fun and nostalgia.
    Aside from shops, a casual stroll through the town leads you to Manitou's mineral spring fountains, where there is constantly running, carbonated mineral water that has been used for its supposed health benefits for years. Some may find it not-so-delicious. Others may find it delightful. You be the judge.
    Aren't convinced yet of Manitou's charm? Many are probably already familiar with the town, and you may not be so fond of the bustling tourism and lack of parking. Maybe it's time for you to see Manitou at night for a change.
    First, a traffic-free trip through Garden of the Gods, which takes you straight into Manitou, sets the mood for a mountain evening. The park, now equipped with gates, closes at 11 p.m.
    Parking in Manitou is a breeze after sundown. Find a free spot (free in both senses) close to the Mona Lisa, a fine-dining fondue restaurant, and common bucket-list entry for Colorado residents. Reserve a table for your special-occasion four-course meal after 5 p.m.
    Take a seat at Manitou Brewing Company for a local drink and food for those on more of a budget. Reservations not required here.
    If you're a night owl and want somewhere even more unique, spend the evening at the Maté Factor, a café run by a local commune. Sit back with friends and enjoy yerba maté drinks or share a vegan cookie between each other.
    The attraction is unique to the area. The shop is open most days for 24 hours; it closes Fridays at 3 p.m. and reopens Sundays at 11 a.m.
    Decide for yourself which you enjoy more: day or night. Manitou Springs is an exciting and unique town from dawn to dusk.
    Take a day trip and enjoy the quirky town of Manitou that is right at our cusps!