Sept. 2, 2013
Monika Reinholz
[email protected]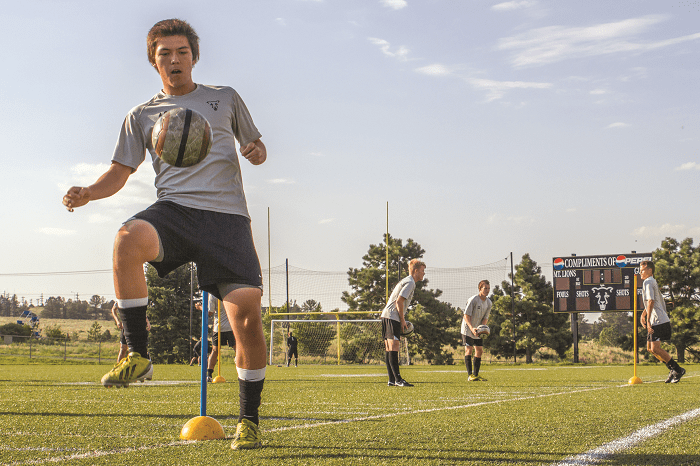 A youthful men's soccer team is entering the 2013 season with motivation to improve. On Aug. 20, the RMAC Preseason Coaches' Poll ranked the Mountain Lions seventh in the conference this year despite last year's semifinal team.
"The only thing that comes to mind is seventh place," said Max Thomas, senior captain and defenseman. "That's motivation for us. We definitely don't deserve that after making the playoffs last year and making third/fourth place and then we lose two players."
Of the current 28-man roster, there are four seniors, eight juniors, five sophomores and 11 freshmen. Of those 28 men, deciding who gets to play, as well as the 11 who start, is going to be tough.
"We have a lot of hard decisions to make in the coming weeks, which is a wonderful problem to have for the coaching staff," said Head Coach Johnnie Keen.
"We're excited about sitting down and making those decisions and watching and training the guys here over the next week to see who is going earn those roles," he said.
"The guys came in fit and ready to play. It is probably the fittest team that we've had since I've been here. So they're ready to go, which is great," he added.
Along with Thomas, there are quite a few returning players to watch for this year, including sophomore midfielder Sebastian Hertzberg, junior midfielder James Roberts, junior forward and midfielder Austin Bell and sophomore midfielder Daniel Oba.
But don't count out the back line, either. Half of the defensemen and goalkeepers are either juniors or seniors this year.
"We have a lot of experience there, so we expect defensively to be very strong as well," said Keen. The team has been practicing twice a day since Aug. 20.
"If we can just keep up that kind of momentum and keep bringing it in the season, I think we will do pretty well," said James Roberts, a junior co-captain and midfielder.
"You know confidence breeds excellence," said freshman midfielder Cort Searls, "and if we can stay confident and play like we know how, I think we'll get the job done."
The Mountain Lions open the season on Sept. 5 at 7 p.m. against St. Mary's of Texas. Eastern New Mexico will follow, on Sept. 13 at 5 p.m. and then Midwestern State will be Sept. 15 at 11 a.m.
All three games will be at home at Mountain Lion Stadium within the Four Diamonds complex.