4/5 stars
Complex elemental magic. Intricate character dynamics. Daring heists.
These are some of the hallmarks of the Grishaverse: Leigh Bardugo's young adult fantasy novel series consisting primarily of the Grisha Trilogy, the Six of Crows duology and now a two-in-one Netflix adaptation.
Netflix's "Shadow and Bone" takes its title from the first book of the Grisha Trilogy, but it extends its scope far beyond the source material — in a good way.
Set in a fantastical world, mostly analogous to northeastern Europe and Asia, the Grisha Trilogy follows Alina Starkov, an orphan soldier raised to Sainthood through the reveal of her unique Grisha power: light magic or Sun Summoning.
Alina's magic is sorely needed in her native country of Ravka (fantasy Russia), which has been cleaved in two by the Shadow Fold: a physical rift of darkness filled with monsters. She discovers her power during an attempted crossing of the Fold to save her childhood best friend, fellow soldier and love interest Mal Oretsev.
After this reveal, Alina is whisked away by the Darkling, who is a special Summoner like Alina (of shadow magic, rather than light) and commander of the Grisha army, to be trained among other Grisha at the Little Palace and grow strong enough to destroy the Fold.
In "Six of Crows," these magical conflicts are more peripheral. The book instead follows Kaz Brekker, a conniving underdog who looks after his own in a gang that operates in the seedy underbelly of Ketterdam (fictional Amsterdam), an international trade hub.
Motivated by greed and vengeance, Kaz puts together a small crew of six, affectionately known as the Crows, for the ultimate heist: breaking into the Ice Court, a prison in the capital of Fjerda (a fictional Scandinavia that neighbors and aggresses Ravka from the north).
Though the Six of Crows duology takes place chronologically after the Grisha Trilogy, "Shadow and Bone" meshes the two together, leaving out the "Six of Crows" plot and instead inserts three main Crows when they are hired to kidnap Alina, whose power as the Sun Summoner makes her a coveted target worldwide.
Netflix's "Shadow and Bone" maintains much of the plot of Bardugo's "Shadow and Bone" but greatly improves upon the namesake novel, widely considered to be the weakest of the Grishaverse, in several key ways.
The first half of the season, in Alina's storyline, keeps some of the book's superfluous YA tropes: Alina is torn between her friendship with Mal and her attraction to the Darkling (known as General Kirigan for most of the season), facing standard difficulties associated with being a "chosen one" but ultimately comes to accept her power.
Where the Netflix adaptation shines is in its casting and its character work.
Mal (Archie Renaux) and the Darkling/Kirigan (Ben Barnes) are both characters with greater individual depth and respect for Alina than their book counterparts, making the love triangle more bearable as you can find reasons to root for each of them.
     Alina (Jessie Mei Li) herself remains a somewhat predictable YA heroine, but Li portrays her with charm and heart, fully dedicated to the role. In the show, unlike the novel, Alina is also of mixed Ravkan and Shu (of Shu Han, the Grishaverse's fantasy Mongolia-China) descent, adding some new implications to her identity.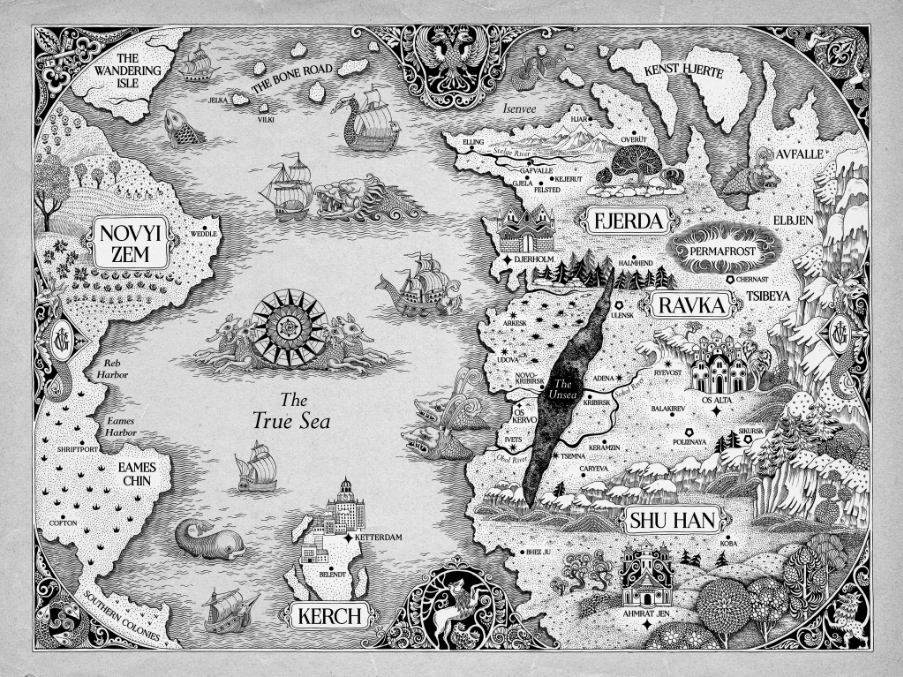 However, issues of prejudice are my one gripe with "Shadow and Bone."
There is an admirable level of diversity in the show's casting, accurately reflecting the "Six of Crows" characters' identities and pushing beyond the earlier Grisha Trilogy's Eurocentric limitations. But "Shadow and Bone" fails to fully consider the real-world implications.
For instance, Li, as a British Chinese woman, brings real representation to the YA field in her portrayal of Alina, but the way the narrative deals with her fictional Shu heritage is primarily through other characters' microaggressions, consisting of name-calling from fellow soldiers or other children at the orphanage where she grew up.
There is little engagement with the political conflicts that might explain the prejudice Alina faces in Ravka, much less any positive affirmation of her identity other than one line about how she doesn't want her eyes magically modified to look less Shu.
The show also risks conflating oppression faced by Grisha — who are hunted as witches by many and who were second-class citizens in Ravka until their magic became necessary to handle the Fold — with racial oppression and doesn't fully unpack either of these things. This is where the show fell from five to four stars for me.
Another mixed blessing of the adaptation is its inclusion of the Crows, who are fan favorites, despite the fact that they don't totally belong in Alina's story. Besides Kaz, "Shadow and Bone" incorporates Inej Ghafa, a Suli (South Asian-coded) woman indentured to a brothel who is hired out by Kaz as a spy, and Jesper Fahey, a witty sharpshooter with a gambling addiction.
     This trio is together for much of the season, and their dynamics were, for me, the most exciting in the show. Their plot, making a dangerous crossing of the Fold and sneaking into the Little Palace disguised to capture Alina, is faster paced with more unanticipated twists and turns, given that it is almost completely original material to the show. They also bring the most humor to the table.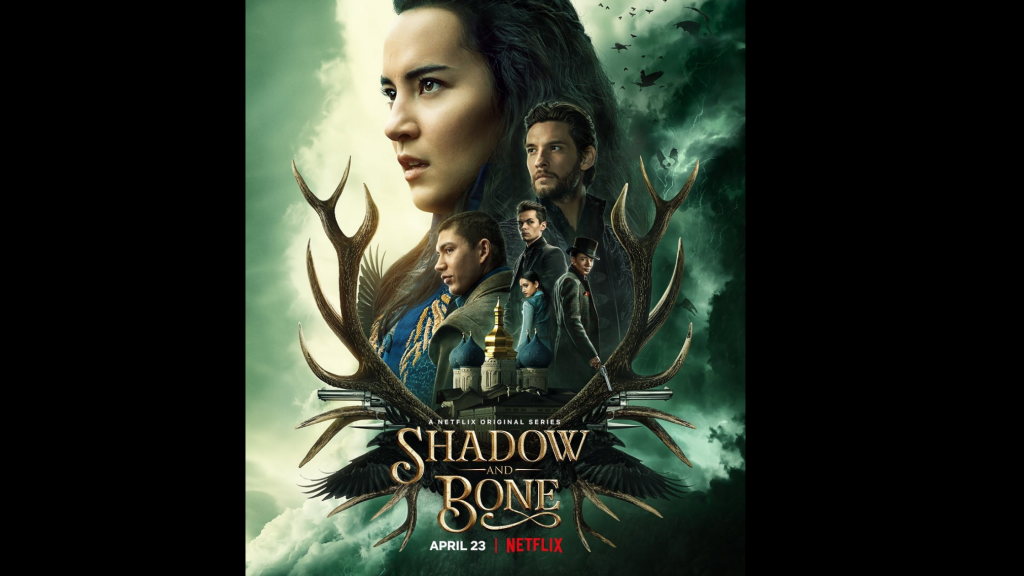 Inej (Amita Suman) is particularly interesting in her religious faith and related refusal to kill, which she must overcome to save those she cares about, including Alina, who she reveres as a Saint. Suman perfectly captures her quiet grace and strong sense of justice, as well as her past trauma.
Kaz (Freddy Carter) is likewise a rich presence onscreen, with Carter being a complete fit for his sharp face and mind, though a touch less aloof than he is in his source material. Readers will appreciate certain details like his gloved hands and reliance on his cane which, while not yet explained in the show, indicate a true commitment to his character.
Two other future members of Kaz's team, whose backstories are told in "Six of Crows" and adapted for "Shadow and Bone," are Nina Zenik (Danielle Galligan) and Matthias Helvar (Calahan Skogman), a Ravkan Grisha woman and a Fjerdan Grisha-hunter who fall in love, despite their countries' historical conflict.
Here, however, the show begins to bite off more than it can chew. Nina and Matthias's story is only tangentially connected to either Alina or the main Crows trio. Of course, I am a die-hard Crows stan, and I would never complain about seeing more of them.
Nina and Matthias's relationship is one I didn't feel extremely invested in when reading the books, but it translates much better to the screen with Galligan and Skogman giving heartwarming performances. Skogman's accent and demeanor do a lot to humanize Matthias's character, so that he seems more misunderstanding than hardened in his hatred of Grisha.
In terms of production, the series — written by Eric Heisserer and directed by Lee Toland Krieger, with Bardugo also serving as an executive producer — makes the most of its big budget.
Filming principally took place in Hungary, giving the show an authentic feel and reflecting its divergence from the typical pseudo-British fantasy setting. The special effects are excellent and accurately capture the magic system, with only a few jarring moments, and Joseph Trapanese's score for the series is eerie and fitting, inspired by Russian orchestral and folk music.
The various nations, conflicts and characters in this show are a lot to follow, but the execution is a real treat for long-time readers — including dialogue lifted straight from the books, a fan's ultimate dream — as well as simplified enough for non-readers to get invested.
Regardless of which camp you're in, it is extremely exciting to reach the mid-season twist and see Alina's story pick up its pace, resolving the question of who created the Shadow Fold in the first place and who is on her side.
As this plotline hurtles towards collision with the Crows', the result is an anticipated but refreshing crossover, creating a whole new host of character motivations to enjoy as Alina seeks to define her own destiny and the Crows question the righteousness of their cause.
My hope is that in future seasons, "Shadow and Bone" will tackle its themes of identity and oppression as well as its themes of loyalty, love and morality in Season 1.
"Shadow and Bone" premiered on April 23 and consists of eight episodes, available now on Netflix.