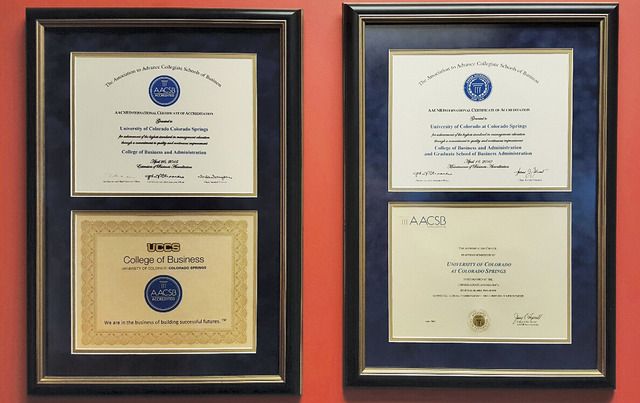 Sept. 28, 2015
Rachel Librach
[email protected]
The College of Business is now offering a Master of Science degree in accounting while the College of Education is introducing a Bachelor of Arts in inclusive elementary education.
Elementary education didn't used to be offered as a Bachelor's and students who want to be a certified public accountant do not need to take as many credits as in the past to earn their degree.
"The idea that our world is turning more and more into a credentialed market, is why the faculty and staff here at UCCS wanted to be sure we can prepare our students to open those doors when they are presented to them," said Brian McAllister, associate professor in accounting.
The accounting faculty, Graduate Program, College of Business and the Dean's office collaborated in designing the master's program that is specialized for accounting majors who want to earn their CPA.
"Blaise Sonnier, our department chair (for accounting and finance), really is the driving force that has gotten the program started and kept it moving forward," said McAllister, who is now the faculty director for the program.
"I would say it has been a huge collective process."
One class added to the program is Federal Tax Research which has never been offered at UCCS. Also included is Financial Accounting Theory, which has not been offered to students in the past three to four years, according to McAllister.
"The MSA has four required courses: the Federal Tax Research class, the Financial Accounting Seminar class, an Advanced Auditing course and an Ethics course which totals to 18 hours in accounting and 12 hours in business classes."
The MSA was open for student enrollment this fall. Seven students are taking the course so far, and students are still admitted on a rolling basis.
UCCS is the only public university accredited by the Association to Advance Collegiate Schools of Business south of Denver to host the MSA program.
The College of Education is in the process of introducing a bachelor's program for inclusive elementary education, which up until this point, has been prohibited by state officials.
"In the past we had people meet licensure requirements with us but they majored in another content area, even elementary teachers would major in history or biology," said Leslie Grant, chair of curriculum and instruction in the College of Education.
"Classrooms have changed dramatically in the past decade. Teachers go out in the field and they immediately have to deal with kids who have very diverse needs including second language learners," said Barbara Frye, associate professor in the College of Education.
"This program is definitely meant for students who want their initial and primary licensing elementary education," she explained.
This program will be evaluated by the Board of Regents, including its teaching materials. The department of Teaching and Learning expects to release this program in the spring of 2016.
The bachelor's includes 121 hours of required course work and will overlap with the already existing educational degree classes. The main focus will be on teachers adapting to their students' diverse needs and differentiated instruction.
Grant said UCCS is the only university to incorporate this bachelor's program for inclusive elementary education in Colorado, which has resulted in 16 new classes being added to the department. The credit hours of course work for licensure has nearly doubled.
While it is best for students to start this program at the very beginning of their college education, Grant and Frye said they are in the process of advising prospective students on a case by case basis.
Frye encouraged anyone interested in the new program to contact her or Grant.