October 17, 2016
Marcy Lopez
Megan Lunsford
     Outside of the classroom, instructors take time to work on their own artistic projects, which are displayed at local exhibits in the community, including UCCS.
     "New Horizons" feature the artwork of eight visual art professors and instructors: Matt Barton, Corey Drieth, Marina Eckler, Pauline Foos, Abbey Hepner, Nikki Pike, Stacy Platt and Claire Rau.
     The exhibit features photography, illustrations, sculptures and mixed media works.
     The gallery is open at the GOCA downtown gallery, located on 121 S. Tejon St., until Dec. 10.
     Rau, Visual Art instructor, displayed her work in a purple room, which were all related to food.
     She believes that appetite is a basic premise of humanity and that people can tell themselves apart through taste.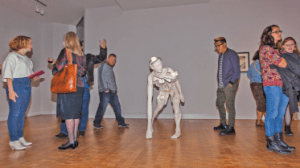 Rau was inspired by the sight of a buffet table and the gluttony that comes with it.
     "I wanted to manifest that kind of hunger and appetite, which is disturbing. Think about how much time we spend thinking, planning and organizing (our meals)," said Rau.
     "There's an accumulation to make this kind of abject protest; (there's) rotting, decay," said Rau.
     Seeing alumni at the event was a highlight for Rau.
     "With an installation like this, (my) family and friends, my students, get to see it," said Rau.
     Barton, associate professor and co-director of the VAPA department, displayed his sculpture named Paradigm Shift.
     The sculpture displays a deteriorating man with a broken foot, holding himself up with his right arm.
     Barton's piece represents a change in self-perception and a sense of confusion.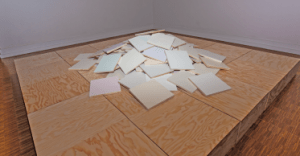 "I like the idea that the body can represent the state of an empire, struggling to stand while growing increasingly distorted and monstrous," said Barton's description next to his sculpture.
     Corey Drieth, associate professor and co-director of the VAPA Department, displayed his sculpture titled How To.
     The sculpture consists of wood tiles piled on top of one another resting on a wooden platform. The piece considers the beauty of failure, according to the description displayed next to his art.
     "Through the use of everyday construction materials it addresses what I find to be beautiful about its failures and possibilities," read the description.
     Foss, senior instructor of Visual Art, displayed five of her pieces in the gallery: The Thoughts of Rabbits are of Rabbity Things, Rabbit Cloud, The Chicken and the Leggs, Rabbit Ladder and Alice Someplace.
     Foss' paintings, created with oil and alkyd paint, were displayed on gesso board. The paintings were colorful, abstract and seemed to be influenced by "Alice in Wonderland."
     Pike displayed an electronic piece, consisting of four speakers that open to play a song. Different speakers played various aspects of the music, including lyrics and bass. All speakers opened simultaneously to play all the musical components together.
     Sydney Pearson, GOCA student employee and art handler, said that Pike's goal was to bring people together through sound.
     Platt, visual art instructor, showed a composition of 19 different archival pigment prints in "Waterlogged Series." Platt's photos consisted of old journals and letters damaged by water.
     "After a night of torrential rains, I opened my closet where all my journals were stored. They were all twenty years worth soaked through with storm water," said Platt in her display description.
     Through her art, Platt shares about first and failed loves, travel and hard times.