The MOSAIC and LGBTQ+ Resource Center has gone through many changes over the past year after renovating their space and hiring new staff. One of the newest staff members is Whitley Hadley.
Hadley was named as the center's director in July and has had a hand in the events students have seen on campus so far.
Hadley is a UCCS alumnus who graduated in 2013 with degrees in communications and women's and ethnic studies. As a first-generation college student, Hadley understands the importance of having a campus community that supports one another.
MOSAIC has been a part of UCCS since 2003 with the addition of the LGTBQ+ Resource Center in 2009, the year Hadley began their undergraduate career.
"I have definitely seen the office when it was more like a cave. When there was just one small table, or it wasn't light enough. So, it has been really nice to come back to the community where there has been an institutional investment in expanding the space as well as human resources and DEI work (or diversity, equity and inclusion)," Hadley said.
     "It is nice to come at a time where there is this platform for possibilities."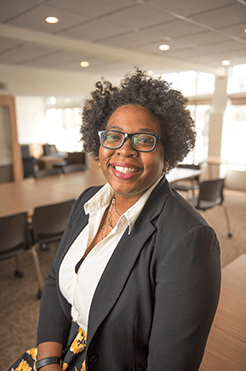 Coming back to UCCS, Hadley asked themself, "What do the students of today want and need to be able to be great community members, future leaders, or even colleagues?"
For Hadley, answering these types of questions means taking a holistic approach to the college experience. "We really have to look at these students as humans instead of just cogs in a big machine," they said.
Several events on campus this year will provide that needed community for students.
"Latinx Heritage Month is next month. National Coming Out day is coming up. We have a partnership with the Veteran and Military Association to celebrate the ten-repeal of 'Don't Ask, Don't Tell.' We are able to maximize our connections with other offices that are also doing great work in our community and seeing that we are all connected and have these intersecting identities," they said.
"Going into November, we will do things surrounding Native American and American Indian Heritage Month. We typically talk about indigeneity in higher ed so we have a panel that speaks to that."
Hadley also talked about their goals for their first year as the director. As an undergraduate, Hadley described themself as an over-involved student. As a result, Hadley wanted to see more students treating themselves as human and taking time to rest.
"We need to take care of our bodies. And that is something that is also a part of these activism circles and justice movements — being able to take care of ourselves and the community through resting," they said.
Some other changes students can expect to see from the office this year include more hybrid programming to be more intentional about whether people can attend events on campus, as well as noting when events are family-friendly for students who may want to bring their children or other family members to a MOSAIC event.
"We are really trying to focus on the model of affirmation, education and advocacy. So we are continuing with those initiatives and trying to set this space up as much as possible as a learning and community space," Hadley said. "As a community, people mess up. As a community, people do amazing things."
Hadley wanted students to know that MOSAIC is a community space for all students. "We want you all to come in and share your perspective and help us to continue to build UCCS out to be this affirming space for everyone to feel a stronger sense of belonging and understanding of one another."
MOSAIC is located in the lower UC and is open on weekdays from 9 a.m. to 10 p.m. For more information about the office and upcoming events, visit their website.