April 25, 2016
Hannah Harvey
[email protected]
Students can take a class to learn how to work to the core of a difficult math problem to find an answer. But they can also take a class to get to their core physiologically.
Pilates Theory and Practice, HSCI 1130, teaches students Pilates theory and how to work their core
muscles. The two credit class has been offered since 2008 and continues to be popular among students of all majors.
Pilates instructor Patricia Fryc has taught Pilates for the past three years.
"I go over Joseph Pilates' theory, core strength and then the physical component of the class to understand controlling your own body," said Fryc.
Fryc said the classes are typically small, but a variety of majors enroll. This semester, 12 students enrolled, but there have been up to 22 students in the past.
"I have engineering, English, nursing and a lot of strength and conditioning majors in the class. Seniors may take exercise classes to fill up classes for financial aid purposes, and undecided freshman take them, too," said Fryc.
Students who take Pilates tend to perform better academically, according to Fryc.
"I see the students who are passionate about getting good grades; they are mindfully present. They typically do well in their other classes."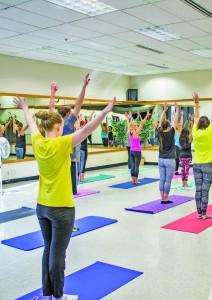 Sophomore nursing major Rachel Payne said she enjoys the class because it serves as a stress reliever from difficult classes.
She said she has felt stronger over the course of the semester and enjoyed the class.
"It's helpful to come here and get your stress out. I picked it because I wanted to work out," said Payne.
Sophomore nursing major Taylor Weldon also enjoys the intensive nature of the workouts to relieve stress throughout the week.
"I like to stay active and don't want to go to the gym. It's a good class for staying healthy; if you don't take care of yourself, then your GPA tanks," said Weldon.
Both Weldon and Payne said they would recommend the class to other students. While students have a chance to relax and do yoga in addition to their core workouts, the class can be intensive too.
"One day, I think we did 160 squats," said Weldon.
The class is mostly activity based. Students take 10-15 minutes to warm up at the start of class, focusing on posture, breathing and abdominal expansion. After this, students break up into three groups and perform five to 10 timed exercises, according to Fryc.
The exercises mainly focus on one's core strength and body alignment.
A written exam is still administered at the end of the semester to test students' knowledge of exercises, the history of Pilates theory and describing form.
For more information about the course, students can contact Fryc at [email protected].