The last day to vote is less than a week away, and the 2022 midterm elections will decide who represents Colorado's fifth congressional district.
Covering Colorado Springs and its surrounding cities, the elected candidate will represent the interests of the city in U.S. Congress. Each candidate has plans to address current issues in Colorado, some of which may affect college students.
Doug Lamborn (Republican Party)
Doug Lamborn has represented the fifth district since 2007 and is running on the Republican ballot. Lamborn believes in reducing the involvement of the federal government in the classroom, reducing taxes and promoting Second Amendment rights.
Lamborn believes his tax cuts will benefit Colorado citizens. "The best way to get American families and businesses moving again is to allow them to keep more of their income. To give power back to the people," Lamborn's website says. "These cuts should be broad-based so that Washington isn't picking the winners and losers, and they must be permanent so businesses can actually plan and invest."
Lamborn has established his strong stance on gun rights, reaffirming his historically pro-Second Amendment voting history. "I am unwavering in my support for the right to keep and bear arms. There is no clause restricting or qualifying this right, or limiting it to merely target practice and hunting. The right to defend one's self and one's family applies to every American," Lamborn is quoted on his website.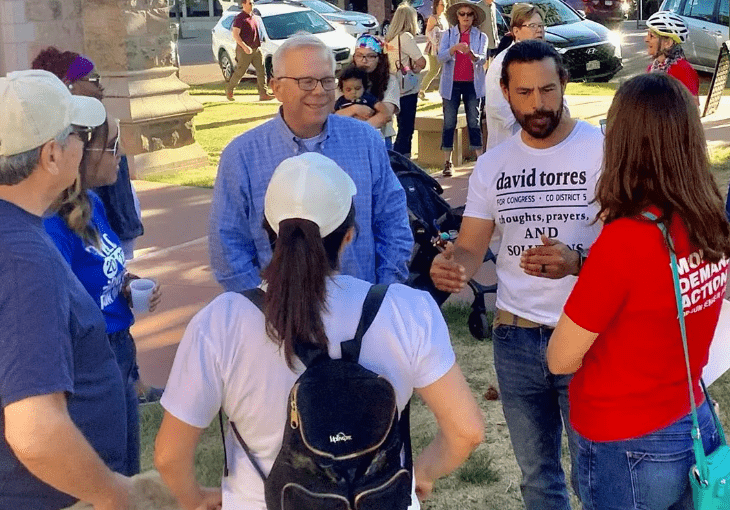 David Torres (Democratic Party)
David Torres is running on the Democratic ballot, challenging the incumbent Republican Doug Lamborn. Torres wants higher quality education and plans to promote trades and trade schools. Torres also wants to make college accessible and affordable.
Torres wants to reform the healthcare system to strengthen mental health services, and he believes that insurance companies shouldn't be allowed to deny coverage for these services.
"Mental health care is health care, period. Access to mental health care and substance abuse treatment should be available to every American NO MATTER WHAT," reads Torres' website. "I will work to ensure that insurance companies cannot discriminate in the coverage of these real medical conditions. It is equally important to invest in hiring more mental health providers, substance abuse counselors, and peer support counselors."
Torres believes neither unrestricted gun use nor superficial bans will solve gun violence. He seeks to apply various restrictions backed by data and research, such as a graduated licensing system with mandatory training, higher age limits for certain firearms, universal firearms registration, mandatory safe storage requirements, reforming the National Firearms Act and classifying suppressors as accessories instead of firearms.
Brian Flanagan (Libertarian Party)
Brian Flanagan is running as the Libertarian candidate, focusing on limited government and preserving individual rights. Flanagan believes that all gun laws should be repealed immediately and that the draft is the equivalent of being a slave to the state and should be eliminated. Furthermore, Flanagan believes the government should not be able to implement mandatory vaccinations.
Flanagan does not currently have a website. Information on his policy stances comes from his Twitter and Reddit pages.
Christopher Mitchell (American Constitution Party)
Christopher Mitchell is running for the American Constitution Party, which according to the party's website, "promotes a religious conservative view of the principles and intents of the United States Constitution." Mitchell is a self-proclaimed "champion of liberty" and is a former Republican. Mitchell believes Lamborn has become complacent in his role and seeks to replace him.
Mitchell's core principles include government accountability and "America First" policies. One such example of this is his goal to cut funding for the military efforts in Ukraine.
"It is not the role of the United States to fund or support Ukraine militarily, either directly or by proxy, at the expense of the American Citizens," reads his website.
More information about Mitchell can be found on his website.
Election Day is Nov. 8. Click here for a list of secure voting sites in El Paso County.