16 October 2018
Eric Friedberg
   The masterminds behind the first jar of peanut butter probably had zero intentions of putting chocolate on it, the person who first invented the marshmallow was most likely not thinking of hot chocolate and the first grunge rock musicians to put enough gain onto their guitars to make their amplifiers feedback were absolutely not intending it to be me mixed with rap.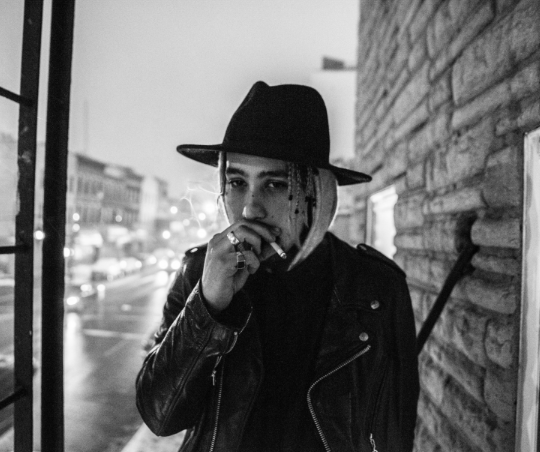 Jez Dior, son of Steve Dior, 70's punk rocker, coined the term grunge rap early in his career when releasing "Funeral – EP" in 2014.
    Signed to the LA and NY record label, Epic Records, home to artists like Future and DJ Khaled, Dior is dropping his new single on Oct 12th along with an album in the near future.
      Continuing to shape and mold his songs with dark tones and guitar-driven elements, it's evident that Dior doesn't admire the aggressive spitfire mentality that Eminem holds more then the power choruses off a Nirvana track.
    Dior is making his way back to Denver on Oct 23 to play at Cervantes, and tickets at the door will range from $2.50 an act to $20.  
    Writing in an email, here's what Dior has to say about his influence, grunge rap and his relationship with Rome, singer and guitarist, from Sublime.
When did you start rapping?
"Started writing raps when I was around 11 or 12, definitely not complete songs or anything but rhyming words together and writing them down on whatever was in front of me."
How did you become friends with Rome from Sublime? What was it like to collaborate with him?
"Rome and I connected instantaneously. The first couple hours that we met we created "Come & Go" from scratch. He's an amazing dude…this man even gave me couches for my new spot! haha. We'll not only have a working relationship but definitely a friendship for a long time."
You've said Eminem has a huge influence on your music. When was the first time you listened to Eminem, what was that experience like for you?
"I actually got into Eminem a lot later than most kids my age, my cousin gave me the Eminem show and it immediately changed my life and made me feel differently than any other sort of music had before. I instantly wanted to rap."
Some of your earlier music had been known as "grunge-rap." What does that mean to you? Is it still relevant to your current style?
"The best way to understand grunge-rap is to listen to/watch the videos from my early EP "The Funeral"…it definitely still has a lot of influence on the way that I make music today, tons of guitars and darker heavy sounds that you will find on my album."
Have you ever played a show in Colorado before?
"Yeeee! Colorado Springs, Denver, & Fort Collins…stoked to come back."
Do you have advice for any young musicians out there trying to make it big?
"BE YOU!"