On June 1, Aidan Clark will move from his current position as speaker of the senate to be the vice president of the UCCS student government. Clark is running for the position unopposed alongside presidential candidate Axel Brown.
Clark has been involved with the SGA senate since 2020 and is a junior political science major. He was born and raised in Colorado Springs and has always had a passion for politics, beginning with his first political rally at age eleven.
Clark plans to join political campaigns upon his graduation in spring 2023.
Editor's Note: Q&A has been edited for length and clarity.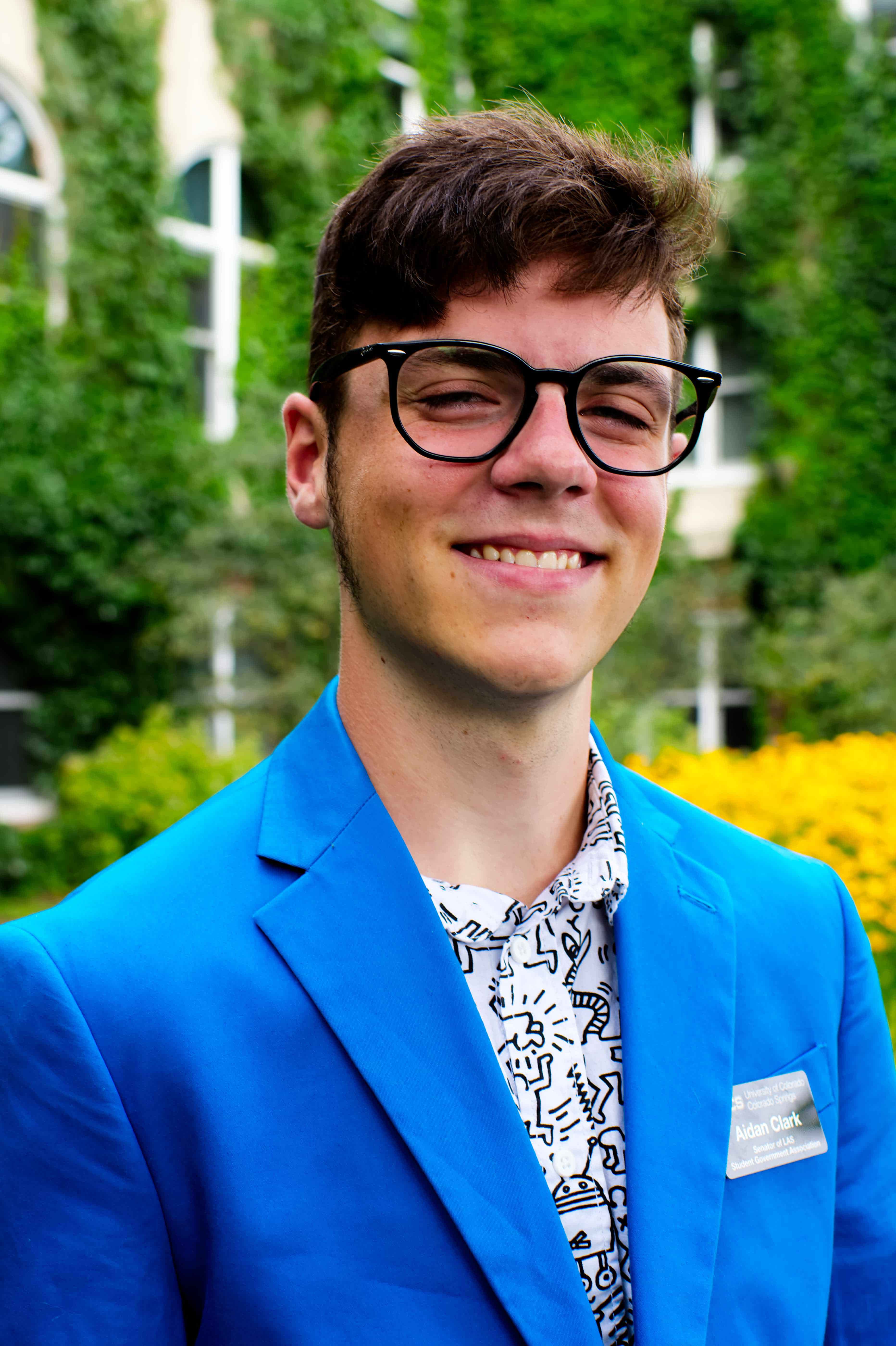 How do you feel about the current state of SGA?
So, I'm really happy with the way it's going. At the beginning of the year, there was a lot of tension and a couple of individuals who had personal issues that kind of came out in SGA and made it more of a tense relationship and tense environment that it needed to be. But in the last couple months, we've really seen that change and everybody's starting to get along and really work together.
Internally, I'm really happy to see that the current state is everybody coming together and doing more productive work rather than arguing with each other. We're all working together on things to help students.
What happened that caused the tensions in SGA?
What I always make sure students know is it was not a large portion of student government. Most of us were just there to be productive, help the students and do our jobs. So, it was stressful because we just wanted to do what we're here to do and separate ourselves. But you know, sometimes that's the way it goes in groups.
In September, we hit a turning point and we started to heal after that a little bit. But I think after Christmas break, we've really come back with a new passion and a new respect for each other that I think wasn't missing but wasn't as strong before.
How do you plan to address the low student engagement with SGA in your future role?
I would really love to do more events that draw students in from lots of different backgrounds and just say, "Hey, we're student government, we're here." I try to make sure everybody knows the doors always open. You can always come in and someone's always in there, because we all have office hours.
I also want students to know, if you have concerns, we're here to hear them. We want to work with you and especially in the executive role. I am in communication with administration, so if you have concerns tell me because I will let administration now. I want to make sure everybody knows how students feel on campus.
What has been your favorite part about being in SGA?
I think really just connecting with students in a different way. My freshman year, I started a club with Nick St. John before either of us joined SGA. And so that was one way to connect the students, but it was separate because it wasn't through the university. So, it's a little bit of a different connection. And then as soon as I joined SGA, just seeing students attend events and being able to help plan those events and connect with what students were interested in and try to play to that was probably my favorite part. I like seeing people enjoy the events that we plan.
What are your achievements and regrets during your time with SGA?
I helped the former speaker with a lot of the bills he wrote. For better or worse. Some of them I kind of regret. I think my biggest accomplishment was really bringing the Government Affairs Committee back from the dead because for a long time, we didn't do anything with it. And in the heat of the COVID-19, I wanted to get this committee active again and host events for students because as a political science major, it was something I was really interested in.
I worked with a small group of students in student government to host two different events for students of the downtown campus, one with the mayor John Suthers, and the other with district attorney Michael Allen. This last semester, we helped host an event with Governor Jared Polis. So, I think my biggest accomplishments are just helping connect students with their leaders and help them understand the positions that they hold.
What do you hope to accomplish during your time in the executive branch?
I hope to create more events that are student government led. Not a lot of students know that student government even exists or what we do, and I want to create a lot more events where our name is attached to it so they know we exist, and where they can connect with us, share their concerns, or maybe their happiness with student government and maybe help them get more involved. I know. Coming up next year, we'll have a lot of open positions and I'd love to host fun events to get students interested in applying for those positions.
What made you decide to move from the legislative to the executive branch?
Yeah, so I've really enjoyed my time in senate and honestly, for the longest time I didn't ever consider moving. I was comfortable where I was being the senator of letters, arts and sciences. I had a lot of relationships in the college, really like the people, but Axel called me one day and he said, "Hey, I want to run for president. I think it's really important. And I don't have anyone to run with. I really like what you're doing. We're good friends. Will you run with me?"
I had never considered it, but as soon as I heard him say that I was like, "Absolutely. Let's do it." Running with someone who I was really passionate to work with and someone who I knew had the same interest as me and really wanted to connect with students and get more involved than we've ever been before really sparked that fire in me.