Brianna Kraemer
The Recapturing Outstanding Achievements through Recognition (ROAR) Awards hosted last Tuesday recognized the diverse clubs, organizations and students at UCCS with outstanding achievements.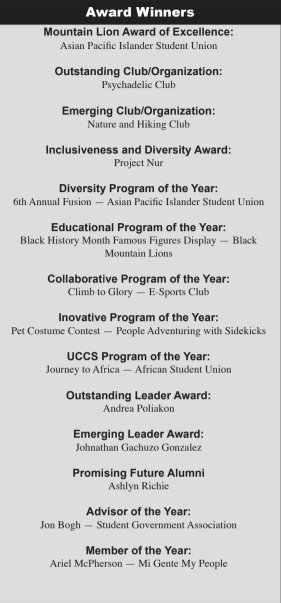 Jamie Smith coordinated the event for the first time along with the help of Gabe Ganuelas, a club involvement specialist, who has been involved with the event in past years.
Smith was very happy with the turnout of the event. She said, "The ROAR Awards were so much fun. The '70s theme was seen through people's costumes, the music and the decorations. I had a really fun time planning this event and it felt really special to be able to help with the 10th annual awards."
She expressed her appreciation for Ganuelas helping her gain a better understanding of how the event works and making the event run smoothly.
The evening started with Senior Executive Director of Student Life and Assessment Brad Bayer giving an opening speech. He thanked clubs and organizations for "helping bring the life to 'Student Life'" and reminisced on how much the awards have grown and changed over the years.
The Mountain Lion Award of Excellence  was  received by the Asian Pacific Islander Student Union, a campus club that strives to build a stronger and more inclusive community at UCCS. The award recognizes a student club or organization that distinguishes itself  through its extraordinary efforts in promoting UCCS' core values of excellence, student success, community interaction, innovation and lifelong learning.
Ashlyn Richie received the Promising Future Alumni award. She said she was surprised when she realized she won the award but was very happy to win the category.
"Receiving the award was such an honor for me as I have put a lot of time  and  effort into our UCCS  community, but oftentimes, [I] felt like it went unnoticed. The award reaffirmed those efforts and made me excited to continue making an impact as an alumnus. I cannot wait until I am able to give back to this community that gave me so much more than a degree," said Richie.
She had a busy four years at UCCS and will be graduating in May with a degree in biology. Richie plans to apply to medical school and continue working as a medical scribe in the Memorial Hospital emergency department during her gap year.
"I hope to come back to UCCS as a mentor for other pre-health students and give back to the scholarship programs that enabled me to get my degree."
Jamie Smith is already thinking about next year's ROAR awards and what can be changed and improved.

"Our nominees this year were so great, but one of our goals for next year is to see even more clubs represented in these awards. I know there is so much more that clubs are doing behind the scenes that we don't always get to see, and I want to be able to recognize those students as well for all of their hard work," said Smith.