April 24, 2018
Olivia Langley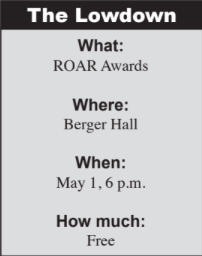 Clubs, assemble: the 2018 ROAR Awards are coming.
    Student Life and Leadership will host the ROAR Awards on May 1 in Berger Hall. The awards honor the achievements of clubs and organizations throughout the year. Students, faculty and staff could nominate someone by April 13.
    This year's event has received over 55 submissions — the most that the awards have ever seen, according to Gabriel Ganuelas, involvement specialist with Student Life and Leadership. Students can be nominated for 14 categories, including Member of the Year and Collaborative Program Award.
   "It's good recognition. It shows that your hard work does pay off, and it's very validating," said Ganuelas.
    Those who win will receive a plaque with their club or name, along with a description of what the award is for. In order to win an award, each submission goes through a panel of six judges who review the submission.
    The awards' theme is superheroes. A costume contest and an award for Best Dressed Superhero will be given.
    Junior finance major Alexandria Monson, president of the Asian Pacific Islander Student Union, heard about the ROAR Awards through networking with SLL.
   "Our group is always in the Student Life Office, and so we get the news on what's happening on campus. ROAR awards is something we have known about for a while. A lot of our members saw it on Mountain Lion Connect," said Monson.
   "I always post on our page about the awards and encourage our members to submit. I write things like, 'If you feel that we have awesome events, a rad group culture and contribute a lot to the university then you should submit a nomination.'"
   The Asian Pacific Islander Student Union won five awards at least year's event, including the Mountain Lion Award of Excellence, Collaborative Program of the Year, Program of the Year Award, the Emerging Leader Award and the Member of the Year Award.
   According to Monson, the biggest take away from being a participant in the ROAR Awards was how much there was to learn.
   "I learned that hard work pays off in the end. It is exciting to create awesome events for the campus and students, and it is fun to be recognized for it. It is also a great way to celebrate the year with other clubs," said Monson.
   Monson believes that the ROAR Awards is an important event for UCCS students and their clubs.
   "(The ROAR Awards) allows everyone be recognized for their accomplishments and appreciate the accomplishments of other clubs," she said.
    " Events like these keep the team spirit alive, and make for an invigorating friendly competition. It motivates us to work hard, put on excellent events, and contribute to the university."
    For more information on the ROAR Awards, visit the Student Life and Leadership Office in UC 102.