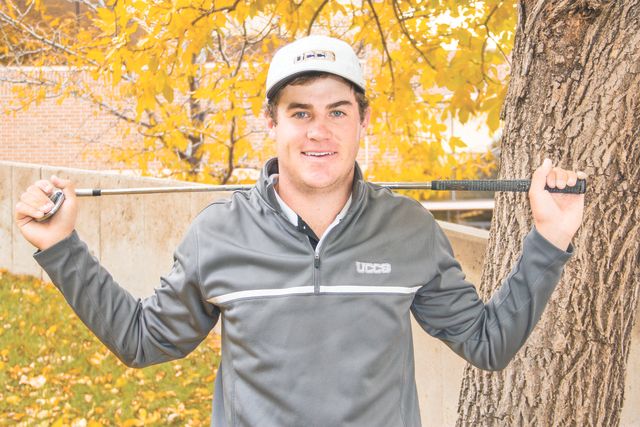 Oct. 26, 2015
Taylor Garcia
[email protected]
Colorado Springs native and Palmer high school graduate Colin Prater made his mark in the RMAC for UCCS this season. He helped the Mountain Lions to the fall regular season championship, winning two individual titles along the way.
Prater, who credits his grandfather as his golfing career's biggest influence, is a red-shirt sophomore who has been hitting golf balls since he was three years old.
He transferred from Colorado Mesa after his freshman year.
"I felt that being close to my family and having the support from them and the will to win that Coach Trujillo brings was the best atmosphere for me to grow as a golfer."
Prater is a biology major and is a part of the UCCS Teach program.
"I want to teach high school and coach after college. I would like to also try and play professionally, so teaching is the backup plan."
Prater said he didn't take golf seriously until his junior year of high school. He played baseball and basketball in high school, along with golf.
Off the course, Prater sticks closely to his teammates.
"We have a good group of guys and we hang out on and off the golf course. We also love to support other athletic teams and you will always find us at all home events."
Working out, shooting hoops and throwing the football around are common activities the team enjoys.
As a Springs native, Prater has a leg up on those from out of town. His favorite place to grab a bite is The Keg in Manitou Springs, located 20 minutes from campus.
"It has the best chicken berry salad on the planet."
Prater is a country music enthusiast and enjoys listening to Jason Aldean and Sam Hunt. He's never broken a bone, either.
"Lots of milk," he said.
This summer, Prater won the local qualifier for the U.S. Open and drove with his grandparents to Newport Beach for sectional qualifying. They then drove to Scottsdale, Ariz. for a tournament and spent three days there.
Prater and the rest of the Mountain Lions will resume play for the spring season in March.