April 10, 2018
Joy Webb
    "Art is so important. Art saves lives."
    These are the words that Shanah Leaf lives by.
   Leaf is a senior fine arts major and senior forward on the women's basketball team. She's looking to take her art to the next level.
   "I definitely want to be an illustrator. I probably want to start with illustrating my own coloring book," said Leaf. "I also like drawing kid friendly characters as well, so I would also be interested in illustrating for a children's book."
    Leaf's art has been featured in several exhibits, including a solo show called "Constructing Chaos" at the Heller Center in 2017, the UCCS senior art show and the Wunderkind Show prior to her freshman year.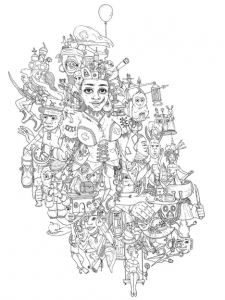 Some of her work from her Heller Center exhibit is displayed in Cafe 65, Summit Village and the Village at Alpine Valley.
    Along with her displays, she is an intern with the UCCS Gallery of Contemporary Art and is doing an extended internship with UCCS Presents with graphics and marketing.
    "I just want to have my art shown in local galleries especially, I think. The Colorado Springs area is beautiful. One of my biggest goals is to start creating murals."
     Art has been a defining element of Leaf's life ever since she could remember.
  "My dad is the original artist, and he always gave us materials when we were younger," said Leaf. "I was definitely at least coloring and drawing before I was walking."
       According to Leaf, one of her greatest inspirations growing up was American writer and illustrator, Shel Silverstein.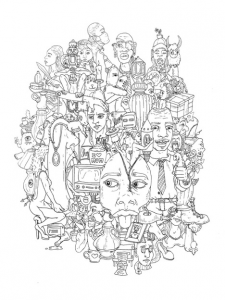 "Runny Babbit was one of my favorite ones, but he wrote poems and illustrated all of the characters in there, so he's one of my favorite illustrators that I take inspiration off of," said Leaf.
     When creating her drawings, Leaf takes in inspiration based on what she sees and depending on what type of environment she's in. Many of her works are Zentangles, which are subconscious drawings.
    This kind of automatic drawing, according to Leaf, is a form of meditation.
      "What automatic drawing is it's kind of not pre-planned and it's not thought out—you just draw," she said.
       "As an artist, because I have ADHD, this is just bunny trails for me, these are all like the streams of thought I have. I think my ADHD is a part of what makes me an artist."
     Leaf's first mural of an automatic drawing was done on a car her senior year of high school, which was covered in her artwork.
    "I really find inspiration from different Hispanic artists, like tapestries, because there's design behind them, like patterns and repetition," said Leaf.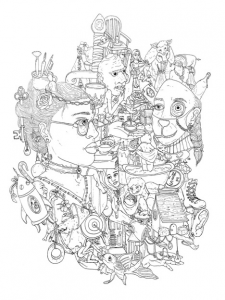 Leaf is also inspired by soul music, and she always listens to music when she creates art.
        Leaf enjoys artist walks, going to museums, art shows, live music events and supporting other artists in the community.
    For more details on Shanah Leaf's artwork, visit her website at shanahleaf.com.