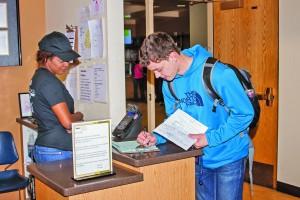 Feb. 29, 2016
Joe Hollmann
[email protected]
Meal plans, part of the costs paid by students who live on campus, can have their share of problems. Students who are new to using the meal card plan, beware: it may not work at the start of the semester.
Shantal DesVignes, a junior visual arts major, experienced this first-hand.
As a resident in Alpine Village, her card would not go through in the dining halls from Jan. 20 through the first week of February.
"My major problem was that my financial aid didn't come in after a few weeks," she said.
DesVignes said that after going weeks without being able to eat at the dining halls, she decided it was too much of a hassle to try to fix the problem.
"I just kind of gave up on it," she said. "I wish the housing and financial aid offices were more informative."
Mark Hayes, director of Dining and Food Services, said every semester they get a list from housing of students who have paid the room and board fee, yet are unable to get in the dining halls.
The list stays at the entrances to the dining hall so if a student's card does not go through, they can refer to the list provided by housing and allow them to go in.
"Typically it is an IT issue, particularly the Lion One card," Hayes said. "If it's a repetitive problem, we turn it over to housing."
DesVignes said she felt housing and financial aid didn't help resolve the problems with her card right away, they just gave her options to go fix it.
She now spends a little over $100 at the grocery store every two to three weeks buying food, while still paying for the meal plans on campus.
"I'm paying double" she said. "I use my own money to buy food for the kitchen."
"I know tons of people were affected."
Steve Horner, assistant director of Residence Life and Housing who helps students whose cards aren't processing, said the problem in the past is usually enrollment.
"We always do have students who aren't enrolled," he said, adding that if a student's card is expired because of enrollment issues, then it won't work.
There are other problems housing experiences that affect cards.
"If a student has a past due balance on their account, then it could affect enrollment which would then affect their card," Horner said.
"Whether it is financial aid, waitlisted on classes, or even trying to get into a different program, there are many reasons why a student's enrollment might be affected."
Horner said at the beginning of the semester there are always problems with cards, and most are resolved within the first few weeks of the semester.
He said both Summit and Alpine villages have someone who can access information on the student ID card system, which can help to see what the potential problem is.
Horner encouraged any student who has experienced issues with their card to go to the Monarch House if they are living in Summit Village, or to go to La Plata House if they live in Alpine. They can also email [email protected].