February 20, 2018
Hannah Harvey
    Student success was the focal point of the Feb. 13 Chancellor's Town Hall, where faculty, staff and students gathered to discuss how UCCS is meeting the needs of its pupils.
    "A Day in the Life of a Mountain Lion: Conversations about the Evolving Needs of Today's Students" focused on a discussion of student expectations through a group exercise and a six-student panel.
    Chancellor Venkat Reddy opened the town hall to more than 140 students, faculty and staff, discussing the importance of student success on campus. This includes advising, dining and hospitality, clubs and other activities that help with UCCS' retention rate, which stands at 65 percent, according to Reddy.
    "Years ago when you went to school, nobody heard about student success. That was not something people talked about," said Reddy. "It's not just what students do in the classroom that matters, but how we're supporting them outside the classroom."
    Sentwali Bakari, vice chancellor of Student Success, introduced the reorganization of the Office of the Vice Chancellor for Student Success, emphasizing how departments such as Dining and Hospitality Services work together.
     By the numbers, student success includes 39 departments, 747 undergraduate student employees and 27 graduate student employees, according to Bakari.
    "There will always be ongoing collaboration and synergy with other departments across campus," said Bakari.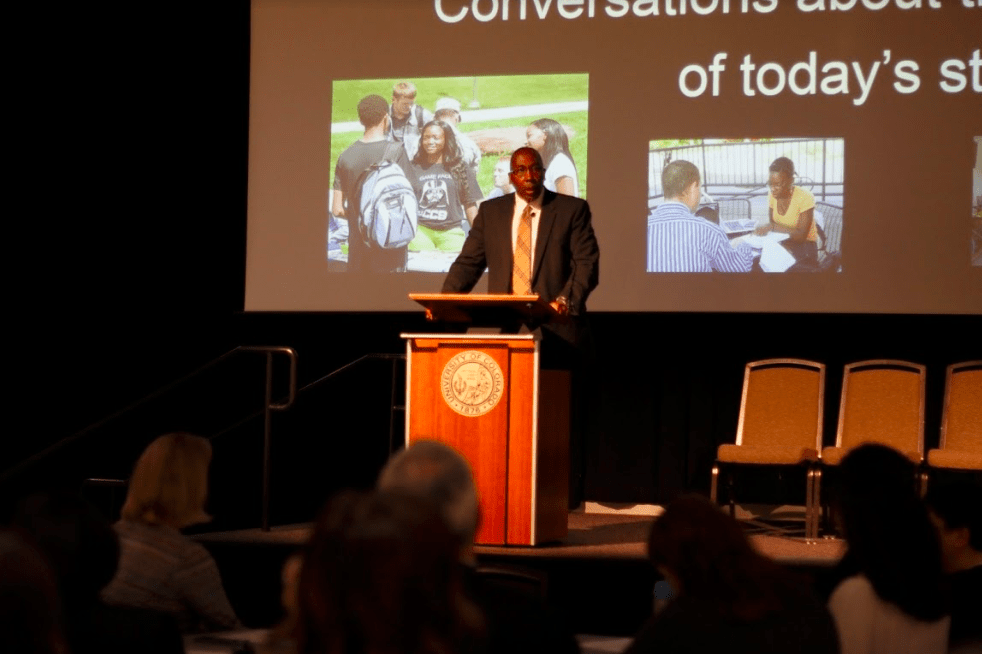 Attendees were separated into eight groups and tasked with answering two questions: how are we meeting the needs and expectations of students, and how can we improve?
    Members of the university felt that aspects like the value of an education at UCCS, resources, inclusion, wellness and a student-centered attitude met the needs of students.
    "UCCS does a great job providing affordable, quality education to students, especially in close proximity to the activities they are doing," said Kevin Tvrdy, assistant professor in the Department of Chemistry.
    "We provide opportunities for professional development for our students, and (development) linked with resources outside the classroom, experiential learning as well as inclusion of different groups," said Bev Kratzer, director of the Career Center.
    However, faculty and staff felt that the university could improve with advising, more transparency with financial aid, expanding support staff and student representation, and the inclusion of better data and a single point of personalized student engagement.
    "Having one place for information, as well as communication. When our students get here, they may be getting sent across campus multiple times, because there's different areas with different expertise," said Debbie O'Connor, director of Campus Compliance.
    Following the exercise, a panel of five students and one alumni answered four questions regarding their experience at UCCS. Anthony Cordova, director of MOSAIC, and Steve Linhart, dean of students, moderated the panel of students they chose to speak at the event.
    Chinenye Obii-Obioha, Jacob, Agatha Graselia, Ellie Edstrom, Austin LaCoste and Alexandra Ruiz provided their input on their most rewarding and challenging experiences at UCCS, along with whether or not the university has supported their needs.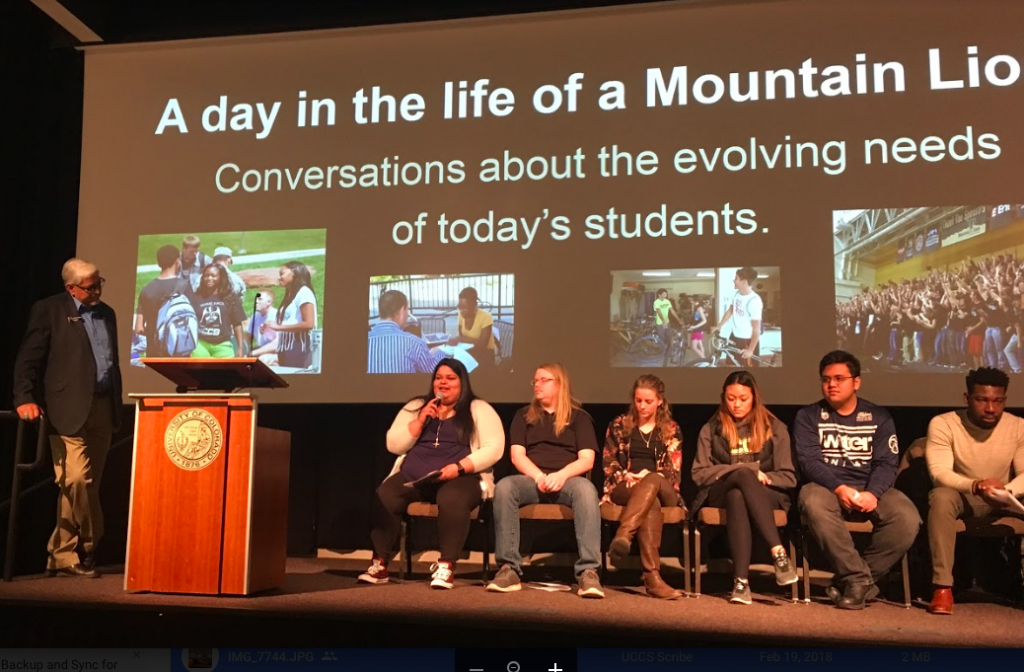 In regards to their most rewarding experience at UCCS, answers ranged from opportunities in Student Employment to leadership experience on campus.
    "I've learned a lot, and I've grown a lot from working at MOSAIC," said Ruiz, a criminal justice major and MOSAIC student support.
    LaCoste, a junior history major and employee with the Chancellor's Leadership Class, agreed that employment at UCCS has boosted his leadership skills.
    "It's really nice to be able to be in a collaborative environment where I get the training that I need both in work and through the Student Life and Leadership office, or any organization that promotes ethical leadership as well," he said.
    However, challenges were more specific to personal experience, including the areas of academics, the financial ability to stay in Colorado Springs and being an international student.
    "My biggest challenge here was figuring out what I wanted to do with my life," said Edstrom, an alumni who graduated in 2016 with a degree in communication.
    Edstrom switched her major with guidance from First Year Experience, who helped her to find her passion in wedding planning.
    Graselia, a senior accounting major and international student from Indonesia, works with international students as the lead student employee in MOSAIC. Graselia sees challenges with language barriers and resources for international students on campus.
    "UCCS can offer more opportunities and resources for international students to get access to those opportunities," said Graselia. "We're capable as well to do the same things American students do."
    The panel also offered advice for faculty on how they can better support students.
    "There's this mentality here on campus of growth, always. There's always room for improvement, and that translates to the students as well," said LaCoste.
    "My advice for staff and faculty is to really get to know the students on campus," said Jacob, a sophomore communication major and student assistant in the Office of the Dean of Students. "Really getting to know the students is how you're going to fix problems that they have."
    Obii-Obioha, a senior business information systems major and employee at the Veterans' Center, provided input on opening the school for veteran students.
    "Core classes like my major will not be offered during the semester, which means I can only take one class and I'm part-time, and then I can't work, so there's a lot of chain reactions that affect our veteran students," he said.
    Following the event, the Office of the Vice Chancellor for Student Success will review the suggestions provided.