November 15, 2016
Mikayla Nunn
     As mid-semester comes to a close, students are starting to worry about their last projects, papers and tests. Amidst these assignments, some students are busy preparing to perform for a crowd.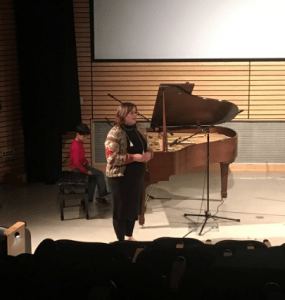 VAPA majors Travis McDowell and Katherine Kendrick held their junior recitals on Nov. 11 in Centennial Auditorium, where they performed their original music for an audience of around 30 people.
     Mcdowell, a junior music production and engineering major, performed an original score on the trombone alongside "The Man for the Machine," a short film. Kendrick, also a junior music major, played an audio of her orginal song and accompanied McDowell on the piano.
     The recital ran for an hour and half, giving each musician enough time to display their own style. McDowell started the recital playing his smooth, drawn out trombone.
     McDowell incorporated a personal tie into his performance with his background in Christianity. At 18 years old, McDowell said he dedicated his life to Jesus Christ, which inspired his gospel-themed performance.
     Although all of his pieces held a spiritual meaning, he chose his final song, "Near the Cross," to honor Christ.
     "This song is a reflection of what (Christ) has done in my life," said McDowell.
     McDowell's technique showed great control with inflections throughout the song that made the trombone sound like it was singing.
     He brought emotion to his performance with his ability to build a connection to the audience.
     Rarely did he play louder than the soundtrack behind him. The soft dynamics were in stark contrast to his choice of instrument.
     The trombone was so quiet at times that the backtracks to McDowell's performance were sometimes louder than his playing. The level of control he used to hold the soft notes makes me wonder what sounds he could make on a louder scale.
     McDowell's compositions for the short film, "The Man for the Machine," were quiet enough not to distract the audience, but suspenseful to pull listeners into the scene. The music had a sense of anticipation that fit the film perfectly.
     Kendrick followed McDowell with songs that incorporated clashing harmonies as the main focus of her music. Kendrick's loud notes and constant use of dissonance made her pieces unharmonious and uncomfortable.
     It was challenging to connect with her music, unlike McDowell's, whose emotion came naturally.
     Her pieces had no regular beat, chorus, or sound, making it exciting to hear what would come next.
     One of her final pieces included McDowell. With Kendrick's irregular style of music, McDowell created an even and soothing sound, which was needed because of all the squealing violins and plucking of strings.
     Placing McDowell and Kendrick together made for easy comparison of style. The harsh sounds of Kendrick stood in stark contrast to McDowell's peaceful gospel songs.