November 15, 2016
Audrey Jensen
     You look at the clock while driving to school and realize that you're going to be five minutes late to class. No parking spots are available as you scan the first lot you see on campus, until you spot one that's close to your lecture.
     To avoid the long trek to class, you decide to park in the Z permit space, not realizing that someone with a Z permit or handicap pass may need that spot while you're away.
     Since Aug. 22, 56 tickets, which fine $100, have been issued to first-time offenders parked in state-issued, ADA handicap parking spaces without a proper permit displayed, according to Jim Spice, director of Parking and Transportation Services. Since August 2015, 152 tickets have been issued for this same offense.
     Those parked in a reserved zone without a proper permit, such as a fire truck lane, loading zone or Z permit, which is a space reserved for someone who is temporarily or permanently disabled, receive a $30 ticket.
     According to Spice, UCCS has a total of 145 ADA approved handicap parking spots and 24 Z permit spaces, which include free parking, visitor parking and lots that require a permit.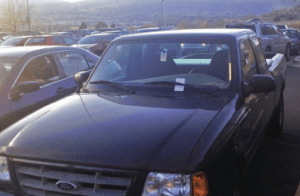 For every 100 parking spaces, two ADA handicap spaces are required in a parking lot.
     This semester, Spice said that 542 tickets have been issued for those parked in reserved zones without a proper pass.
     "It's unfortunate, but we ticket a lot of people who park where they're not supposed to be," Spice said.
     Students think they can park illegally or wherever they want to during the first three weeks of the semester, according to Spice.
     "Until they get a ticket, they don't understand; once they start getting tickets, they realize they can't afford to park wherever they want."
     Dan Berry, a senior economics major who is a disabled veteran, said that he calls parking services almost every day to report a car that's illegally parked in a disability space or Z permit space.
     "Parking on this campus sucks and I understand that, but when they specifically set out to make more handicap parking and it's misused by various students, that's where the problem comes in," said Berry.
     With 10 surgeries done on his lower back and permanent nerve damage in his legs and feet, Berry has to use a cane to walk; otherwise, he may lose his balance.
     "There are so many people on this campus that are worse off than I am. It's just so irritating that there's a gentleman who's a veteran that's missing a leg, and he can't park because someone who's fully able to walk that distance decides to take that spot," Berry said.
     When confronting those wrongly parked in one of these reserved spots, Berry said that students will respond with profane language or tell him to mind his own business.
     The lots with the most offenses are Lot 576, reserved parking in Lot 224 in front of the library and Lot 230 behind Columbine Hall, according to assistant parking manager Renee Cinkosky.
     Tickets are issued every day to cars parked in a Z permit space in Lot 576, according to parking services employees and students Isaac Brumm and Donnie Byers.
     Aside from laziness, Berry and Cinkosky said they believe students are uneducated in what Z permits are for.
     "There's not that awareness; some people are doing that because they don't care. That's our biggest argument with those Z spaces," said Cinkosky.
     Spice added that students also claim they did not see the signs for parking spaces designated to Z permits.
     This semester, 38 Z permits have been sold so far. Parking services will max out at 50 of these permits per semester.
     This is the first semester UCCS has Z permit parking because the campus often runs out of state-issued ADA handicap parking, said Spice.
     He added that a majority of people who are mobility impaired do not necessarily need an ADA pass.
     Students can fill out a form with a doctor's note for a Z permit, which is for students or faculty with a temporary disability or mobility issue, but a parking permit is required, in addition to the Z permit to park in certain lots on campus, said Spice.
     People with state-issued handicap passes can also park in Z spots on campus with a Z permit, as long as they also have an on-campus parking permit.
     Spice encourages students who need Z permits longer to apply for a state-issued pass and for any student confused about what a Z permit pass is to look up the rules on their website at uccs.edu/.