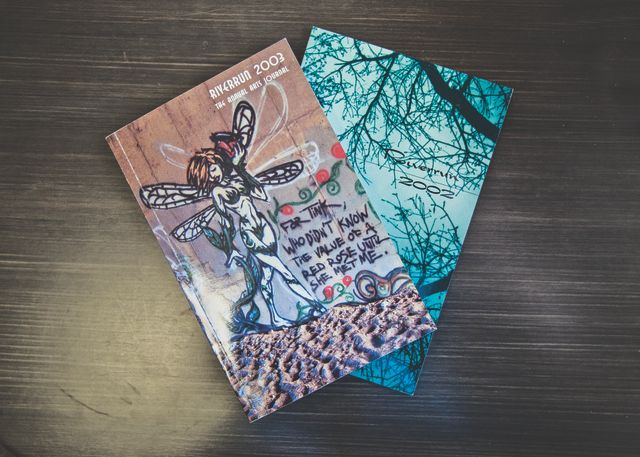 Nov. 23-Dec. 6, 2015
Hannah Harvey
[email protected]
Authors such as J.K. Rowling and Stephen King were given countless rejections before ever making it to print.
The campus literary and arts journal, riverrun, is giving students the chance to make their own publishing dreams come true.
Students of any major and year may submit original pieces of fiction, nonfiction, poetry and art by Dec. 4. There is no theme students have to follow.
The journal is student run, with the advice of two faculty, Kirsten Bartholomew Ortega, associate professor of English and K. Alex Ilyasova, director of the professional technical writing program and associate professor of English.
"We give students opportunities to read work and identify what about the piece is great and what is not," Ilyasova said.
The publication is being adapted into a class, English 3170, that will be co-taught by Ortega and Ilyasova in the spring. Students must have taken English 1310 and English 1410, 2080 or 2090 as prerequisites for the class.
Before the creation of the class, the publication was created over two semesters.
In the class, students will also plan for the publication by creating materials that the editors and faculty advisors will use to review submissions next fall, according to Ilyasova.
"The class itself is going to be broken down into those individual components, so that there will be groups in the class doing work on different aspects of the journal," said Ilyasova.
Components of the class include marketing, design and editing. Students who participate in the class will produce the journal. The class is already at capacity, but the number of seats may increase if more interest is expressed.
Hans Cox, a master's student in computer science, had three published poems in the 2014-15 issue. Cox says poetry is important because it allows a person to pause and pay attention to their surroundings.
"It's important to be exposed to poetry because it considers what it's like to be alive," Cox said.
According to Ilyasova, students are in charge of gathering submissions, sending out letters of acceptance and rejection, editing, organizing, designing and distributing riverrun.
Ortega is responsible for managing the student literary editor, who is responsible for submissions, while Ilyasova manages the technical editor, who assembles the issue, including elements of print, design and editing.
The publication originally started as a club in 1971.
The founders worked with Kenneth Pellow, the first faculty advisor for the journal, in order to provide UCCS with a professional literary organization, according to Ortega.
"The journal represents creativity. It is selective, competitive and professional. It offers a place for thoughtful creations on campus," Ortega said.
For those who are aspiring writers, the journal offers real-life experience in the publishing process. The goal is to provide students with the language to articulate their ideas, said Ilyasova.
Students interested in submitting a piece to riverrun can send in their work to [email protected].