It's been a long and well-deserved summer, UCCS, but Swifty is hungry for a final semester of recipes. What better way to start than with a recap of mine and some of the rest of the Scribe staff's greatest food hits of the summer?
Summer is a great time to try new things and center yourself with your favorite hobbies, so it's always a great time to try new food. This summer I've been focusing on getting back to basics, partly due to my busy schedule and partly to my want to hone in on some of my favorites.
The basics for me included refining my cookie recipe and creating a new one, like classic white chocolate macadamia nut cookies, which I will publish later in the semester. For now, I will give a couple tips on what I changed to make a better cookie no matter the kind.
Be careful not to overmix when creaming the butter and sugar together.
I found that when you mix these two on a high speed beyond 5 minutes, it creates a really dense cookie. The butter starts to split as it becomes excessively thick. While this can create a plump cookie, it will ultimately dry out and won't be a nice mix.
Use dark brown sugar for dark cookies, sometimes use molasses for color.
Specifically with chocolate chip cookies, the tops can sometimes come out a little pale while the bottom is a perfect golden brown. While this could be an oven problem, there's no perfect oven and they'll all cook this way. The best way to make up for it is to use dark brown sugar so the mix is already dark. If you like a really deep brown color cookie, add a couple tablespoons of molasses.  
Beyond cookies, sandwiches became a bit of an obsession for me, as they're awesome for on-the-go meals, which are often needed during summer. I created a few recipes for some sandwiches this summer, but my favorite happened to be Italian inspired vegetarian!
Fried Eggplant Caprese Sandwich:
Ingredients:  
1-2 medium eggplants (depending on the size) peeled and sliced into rounds
3 eggs
1 cup all-purpose flour
1 tablespoon Italian herb seasoning
½ cup Parmesan, finely grated
1 cup panko breadcrumbs, slightly crushed to fine crumbs
Olive oil, for frying
½ cup Store-bought or homemade pesto
Sliced Baguette, Ciabatta, or Focaccia rolls
2 tablespoons unsalted butter
2 ripe Roma tomatoes, sliced
Basil leaves, balsamic glaze, salt and pepper for serving
Whipped Spiced Honey Ricotta Spread:
1 cup whole milk ricotta cheese
¼ cup honey
1 teaspoon cayenne pepper
½ cup heavy cream
Directions: 
Lay the eggplant rounds out on a baking sheet covered with paper towels and salt the rounds generously. If they won't fit on the baking sheet, lay another paper towel on top of the eggplant and salt a second layer. Be sure to cover it with another sheet of paper towels either way. Place a cutting board on top of the rounds and place a heavy saucepan or object on top to squeeze the water out of the eggplant. Set aside for one hour.
Meanwhile, whisk the eggs together in a shallow bowl. Place the flour in another shallow bowl and mix the breadcrumbs with the Italian seasoning and parmesan in a third shallow bowl. Heat the olive oil in a high-sided saucepan over medium-high heat.
Dredge the eggplant slices in the flour, shaking off excess, move them into the egg and swish until wet. Finally, place the slices in the breadcrumb mixture, pat until generously coated. Place them on the reserved sheet pan. Repeat with the remaining eggplant slices. When all the slices are coated, fry them in the oil until golden brown on each side, 5 minutes. Allow to drain on a drying rack or paper towels.
For the Whipped Spiced Honey Ricotta Spread: 
Whip the ricotta in a food processor until creamy. Add the honey and cayenne pepper, mix until smooth. Slowly stream the heavy cream with the processor running, it should be thick and spreadable. If it is too thick, add more cream. Set aside.
Meanwhile, melt the butter on a griddle over medium heat. Toast the bread until golden brown.
Assemble the sandwiches:  
With a bottom slice, spread a layer of pesto. Place two slices of eggplant, two slices of tomato, a couple basil leaves and a drizzle of balsamic glaze (if using). Spread the honey ricotta on the top slice of bread and place it on the sandwich, repeat with remaining slices of bread, depending on the size of your sandwiches.
With the summer ending, I hope these recipes find you all well. I will send you off with fellow Scribe reporter Olivia Nordyke's favorite warm weather drink, Limonada from NYTCooking.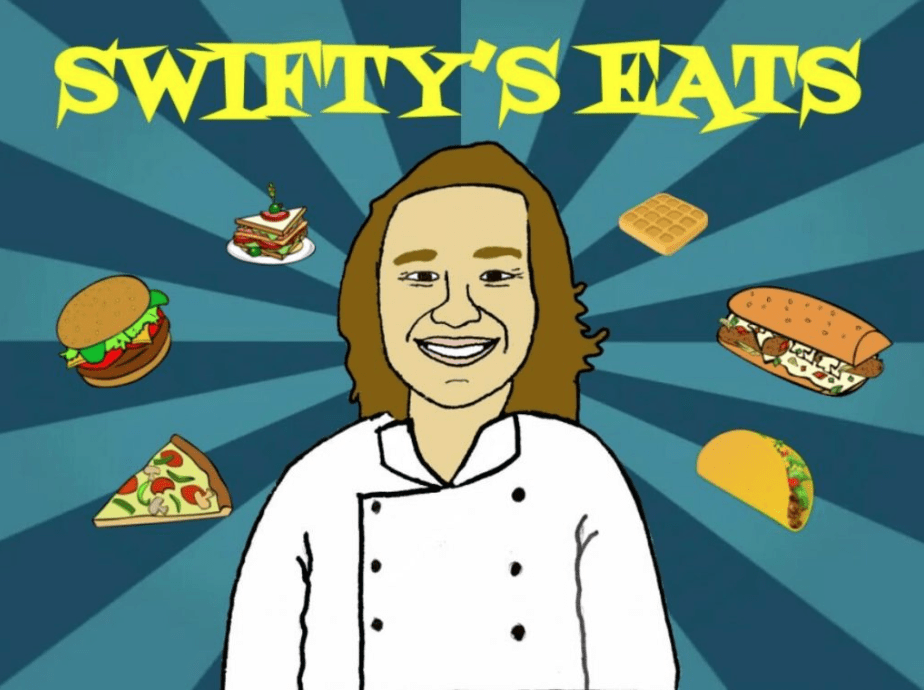 Graphic by Neako Hallisey.