Some of the best places to create and innovate are designed to inspire, with a comfortable atmosphere, plenty of space to spread out, lots of natural light, art splashed on the walls and enough food and drink to keep ideas flowing.
The Exchange coffee shop on South Tejon Street is the perfect union of these qualities.
     The drink menu includes specialty coffees such as "strong and sweet" Café Cubano options and Zombie white espresso lattes, along with customizable coffee and a coffee of the day option. There are plenty of other drinks besides coffee, such as matcha lattes, smoothies, Italian sodas and more. The Exchange also has a bar that offers cocktails "all day, every day."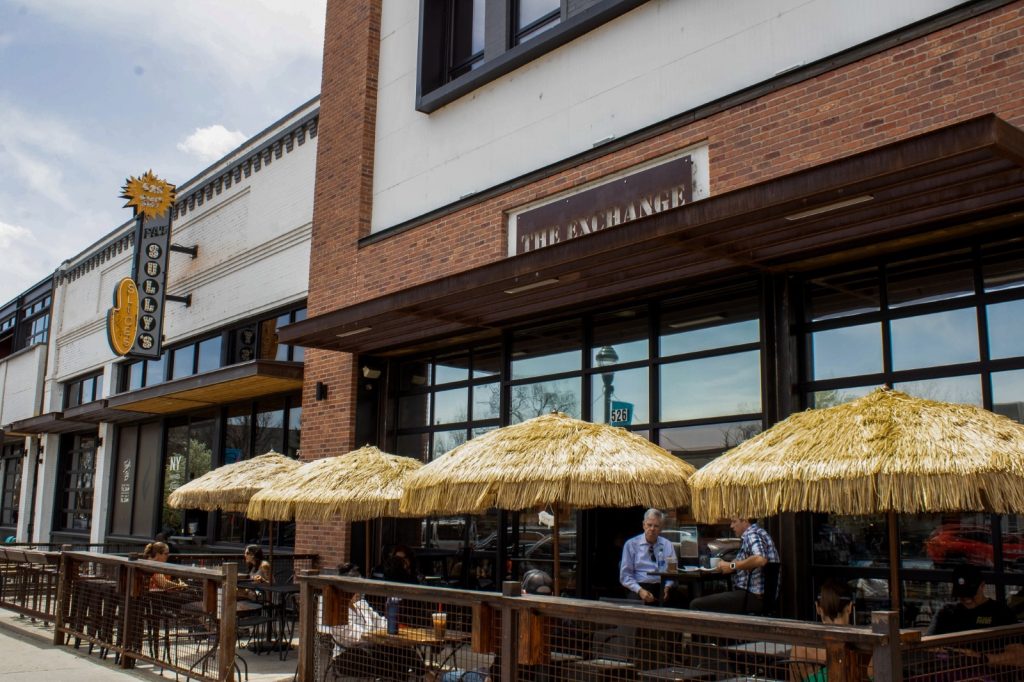 The food menu is more extensive, with a breakfast menu served until noon on weekdays and 2 p.m. on weekends. It features bagels from Old World Bagel and Deli that they use for breakfast sandwiches.
The lunch menu shines with its Cuban-influenced sandwiches, from the Pan con Bistec — a steak sandwich with potato sticks and caramelized onions on a Cuban roll — to El Cubano, which has pork, Swiss cheese and mustard. There are also soups, appetizers and a bakery with plenty of desserts.
The website explains that one of the owners has Jewish and Cuban roots, leading to a unique blend of influences reflected in their menu.
The average sandwich costs between $10 and $14, and the average coffee costs can cost around $4-$6. They do, however, offer punch cards that equal a free drink after 10 purchases.
The Exchange has an industrial, artistic atmosphere, from the wooden barn door paneling on the left wall to the colorful, flowing mural on the right. The whole space is filled with plants that add life to the steely garage doors opening onto the outdoor seating.
There is also plenty of air and space, from seating all over the ground floor to a balcony that includes a conference table, two couches, some armchairs and a high tabletop space where customers can look out over the shop.
The different kinds of seating spread out around the whole space means that students who want to narrow their focus and get work done can find a quieter spot on the balcony, and groups of people meeting for dates, business or just hanging out can choose from plenty of different options from armchairs to bar height tables.
The Exchange also offers special events and performances by local artists that they advertise on their Facebook page. Anyone interested in performing can reach the shop at [email protected].
The Exchange is a beautiful space for a once-in-a-while treat to meet up with friends, enjoy a fresh and different drink or just let the atmosphere inspire you as you study. Located in the growing center of downtown Colorado Springs at 526 S. Tejon Street, the Exchange is open from 7 a.m. to 7 p.m. Mondays through Fridays and 8 a.m. to 5 p.m. on the weekends.