Kaylan Hardin
Every October, the Annual Security and Fire Safety Report is made accessible to students through the UCCS Police, Human Resources and Admissions websites.
The 2019 campus crime statistics are included in this report, which outline the number of instances of criminal offenses reported to the UCCS Police. This data includes line items such as theft, sex assault, domestic violence, liquor and drug violations, hate crimes and more.
There was a notable increase in drug and alcohol related violations between 2018 and 2019. In 2018, there were 20 alcohol violation related arrests, which increased to 30 in 2019. The number of referrals for disciplinary action as a result of alcohol violations increased from 114 to 160 in 2019.
For drug related offenses, there were 17 arrests in 2018, which increased to 20 in 2019. The most notable increase was the number of referrals for drug related offenses which increased from 32 to 89 last year.
There were eight rapes reported in 2019, an increase from six in 2018 and one the year before.
Theft decreased from 75 instances in 2018 to just 43 in 2019.
Two race related hate crimes were reported in 2019. One sexual orientation hate crime was reported in 2018.
For the complete crime statistics from 2019, refer to the table below.
On Oct. 1, an email was sent out regarding this annual report. The email provided information for students and members of the UCCS community as a whole on how to keep themselves and their properties safe.
The Annual Security and Fire Safety Report is produced in accordance to the requirements of the Federal Jeanne Clery Disclosure of Campus Security Police and Campus Crime Statistics Act, better known as the Clery Act.
"UCCS is required to keep campus records of crimes reported on campus-to-campus security authorities … and keep a daily crime log open for public inspection," according to the email.
Scott Smith, director of emergency management on campus, was a professional firefighter with Colorado Springs before coming to UCCS. He describes the report as a great resource and gives insight into some of the safety procedures on campus, including fire safety drills, evacuations and monitoring.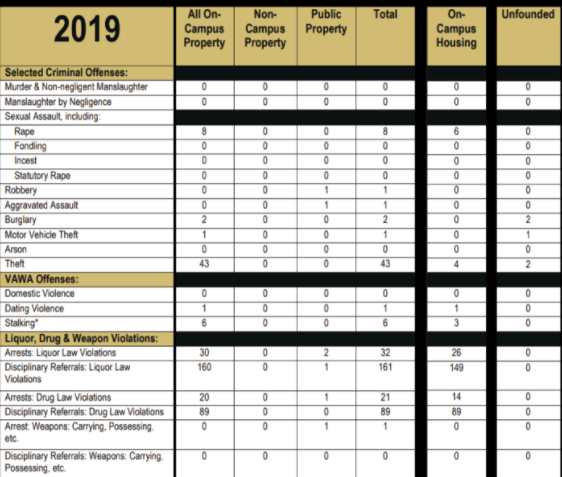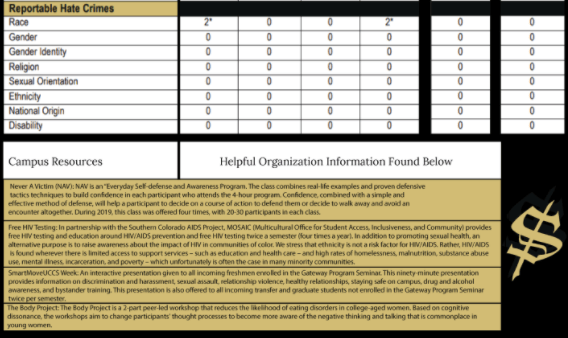 The school is always updating to keep the campus safe in accordance with guidance from professionals, as Smith shares, "We have the fire department monitor the drills and give us feedback."
Smith shared that although campus looks different this year with the pandemic, safety is still a priority. "We have a focus on loss prevention and work with James Duvall, the director of university risk management, and fire officers because we have more potential of property loss in buildings due to lack of observations and lack of presence since a majority of the school's population isn't here. A consequence is our campus is open and public but we have developed more observations and our facility team is always here to secure and monitor buildings," Smith said.
If someone doesn't wish to report a concern directly to the UCCS Police they can use the University's online anonymous reporting option at this website or use Safe2Tell Colorado. The only concern surrounding these options is that the reports issued will not be viewed immediately.
Resources listed at the bottom of the chart are available for students' benefit and safety.
UCCS is, of course, an environment of learning; however, safety measures should be taken into account for the safety of all individuals. This annual report provides information regarding any concerns as well as what happens on campus to ensure the safety of the UCCS community.
     The full 2020 Annual Security and Fire Safety Report can be read in full here.