1 October 2019
Douglas Androsiglio
Every year, Parking and Transportation Services takes bikes left on campus over the summer break and donates them to One Nation Walking Together (ONWT), a charity that helps impoverished Native American communities.
ONWT helps 11 reservations in Colorado and six others in surrounding states. They give about $2 million worth of donated goods and offer services to between 30,000 and 40,000 Native Americans annually.
OWNT says on their website that their mission is to positively affect Native American life. "A people that are greatly underserved and misrepresented. ONWT is an organization about People giving to people — not a cause."
ONWT accepts bicycles and most other items as donations, as long as the items are in working condition. "We started giving to [ONWT] about three to four years ago," Jim Spice said. "Previously, we donated abandoned bikes to Goodwill. We'll work with any non-profit."
Spice said that the university does not have the resources to repurpose the abandoned bikes for campus. His team looks for bikes without registration stickers, rust and that can function as is.
"After receiving bikes, we send them to 'Kids on Bikes' to fix them up for us," said Laura Chickering, department director of ONWT. "We provide resources to any reservation that asks for them and work with community leaders to fulfill their needs."
ONWT provides many other services to Native Americans living on reservations including food sustainability, medical care and family assistance.
According to the Center for Native American Youth, young people in reservation communities are more than twice as likely to commit suicide, 177 percent more likely to develop diabetes and almost 50 percent of indigenous youth have never graduated high school. ONWT offers access to mental health services, diabetic supplies and emergency services such as homeless aid and crisis interventions. ONWT gives presentations and lectures to local schools, churches, businesses and organizations to educate people about the struggles many Native Americans have, and also to educate more people on Native American culture, traditions and values. According to their website, they gave over 70 different presentations on Native American culture alone in 2015.
Since 2016, OWNT has hosted a film festival to showcase local filmmakers and to share perspectives of Native Americans. The One National Film Festival's goal, according to its website, is educating the public through positive representative of culture and history. OWNT also funds an annual powwow in Colorado Springs. The Native American Intertribal Festival and Powwow was started in the hopes of facilitating positive interactions between Native Americans and non-natives.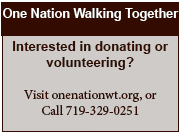 OWNT became involved in the powwow when the Palmer Lake Historical Society decided to move the festival to an indoor location due to summer weather conditions and drought. Traditionally, powwows are highly spiritual ceremonies meant to celebrate a successful hunt or harvest. They also prepared warriors for battle and kept ancient stories alive through song, dance and storytelling. In the same spirit, these local powwows keep Native American culture alive by showcasing artwork, dancing, Native-made crafts, food and more to the Colorado Springs community. If you would like to donate or volunteer for One Nation Walking Together, visit onenationwt.org or call (719)-329-0251.