Sept. 2, 2013
Sara Horton
[email protected]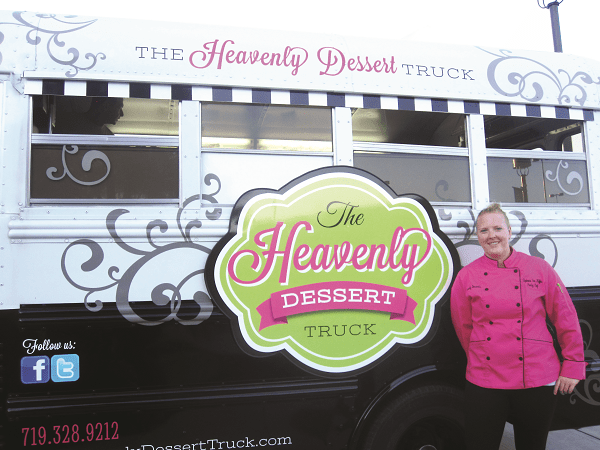 Stephanie Van Wuffen is driving Miss Daisy.
The Aug. 26 Concert on the Lawn marked the first time Van Wuffen, a 2010 UCCS alumna, drove her to the campus.
Van Wuffen bought Miss Daisy, a 1991 former school bus, to start The Heavenly Dessert Truck and sold concertgoers brownies, cupcakes, crème brûlée and more, most of the treats starting at $3.50.
She started the food truck business with her parents June 1. The Office of Student Activities, after hearing about the truck, approached Van Wuffen about vending at the concert shortly thereafter.
"I like being mobile. It's fun," she said. "You get to move around, you get to go to events, you get to do weddings, all of that kind of stuff."
Van Wuffen, 26, is from Colorado Springs. She graduated from the UCCS School of Business with a bachelor's in business management and also graduated from Johnson & Wales University's pastry program and culinary program in Denver.
She attended CSU for a year and a half before transferring to UCCS, where she said she enjoyed the small class sizes and has since applied what she studied, particularly accounting, marketing and business calculus.
"Just those little things that you think you're never going to use-you do end up using them eventually," she said. "You don't realize it until you start your own company."
Van Wuffen interned at The Broadmoor Hotel and Inverness Hotel, where she learned more about gourmet desserts, before starting her own food truck business.
"I always knew that I wanted to be my own boss and do my own thing," she said, citing her mother as an inspiration.
Van Wuffen described herself as a third-generation entrepreneur. Her grandparents owned a restaurant in Michigan, and her mother, Amy Van Wuffen, has been the owner of Starlyn's Chocolates for the last 16 years. Stephanie Van Wuffen started working with her mom when she was eight years old.
"We knew she would come in and help once and a while, but then as she got into high school during her breaks she would work, all the way through college. Any time she had breaks she would work," said Amy Van Wuffen, also a co-owner of The Heavenly Dessert Truck.
"I knew after I graduated from UCCS that I wanted to either do a restaurant or do this chocolate like her, so I went to pastry school and fell in love with pastries and decided to do pastries," said Stephanie Van Wuffen.
"I've always loved baking with my grandma and my mom when I was little," she continued. "One day it just became a reality, it became a dream, and hard work, and all of that paid off."
The hard work didn't stop once The Heavenly Dessert Truck was open for business, though.
According to Amy Van Wuffen, The Heavenly Dessert truck has a number of events lined up after the Concert on the Lawn, including a wedding in September. The biggest challenge Stephanie Van Wuffen is facing as a young entrepreneur?
"Probably not having enough time in the day and not enough time to try new recipes," she said, adding she changes the menu daily.
"With the truck, you work like 24/7, so without the hard work, there's nothing. But you still need time, and there's probably not enough time in the day to get everything you want to get done."
While Stephanie Van Wuffen didn't reject the idea of keeping a storefront one day, she said she plans to stay on the road for now and would like to buy more trucks to circulate in Colorado Springs and Denver.
"If you put your mind to it, you can do it. You just have to put that hard work and dedication into it."