August 29, 2016
Anne Stewart
     The women's soccer team at UCCS has been placed fifth in the Rocky Mountain Athletic Conference preseason poll in addition to senior forward Michaela Mansfield being named the RMAC Soccer Preseason Player of the Year.
     Prepared to use old and new strategies, the team will use what they learned last season from their 11 wins and placing third in the RMAC to work hard this year.
     One of head coach Nichole Ridenour's goals this season is to find out which players fit into new roles, as some of the team's key players graduated last year.
     The first game will be a challenging one, according to Ridenour.
     "The (Angelo State University) Rams are the top of our region. We wanted to start off by challenging ourselves and making sure we got off to a big start," said Ridenour.
     Junior goal keeper Grace Ramsden said that knowing their opponents made for a successful season in 2015 and will be important for the upcoming season, too.
     Colorado Mines, who placed first in the 2016 RMAC preseason poll, will play UCCS twice this season.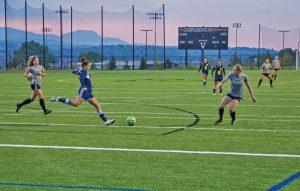 Ramsden said that the team has to treat the high-pressure games like all the rest.
     "The girls have a lot of preparing to do physically, and we have a lot to prepare in terms of strategy," said Ridenour.
     The team has more staff available this semester, and with that availability, there was more opportunity for the team to train in the off-season.
     Ramsden said that the team has come together stronger now than in the past.
     "I think it came from the team supporting each other," said Ramsden on their success last year.
     Ramsden said this applies to both when they play or watch games.
     Ridenour also sees this support system, and said that the older players guide the younger ones, both on and off the field.
     Ramsden is excited about the prospective season based on the results of the RMAC preseason poll.
     "It definitely gives us the drive to keep going and do the best we can. We want to be at the top." said Ramsden.
     The women's team will play Angelo State for their first game on Sept. 2 at 7:30 p.m. on the Mountain Lion Stadium.
      The team will play the Colorado Mines on Sept. 21 at 7:30 p.m. at the CSM Soccer Stadium, and then again on October 14th at the Mountain Lion Stadium.
     For more information on the Women's soccer team, or their upcoming season, visit gomountainlions.com.