2 October 2018
Alex Dant
    The Visual and Performing Arts (VAPA) program within the College of Letters, Arts and Sciences has added dance as a declarable major.
    Kevin Landis, director of VAPA, said that arrangements for the major were made for the Spring 2018 Semester with its full debut happening this semester.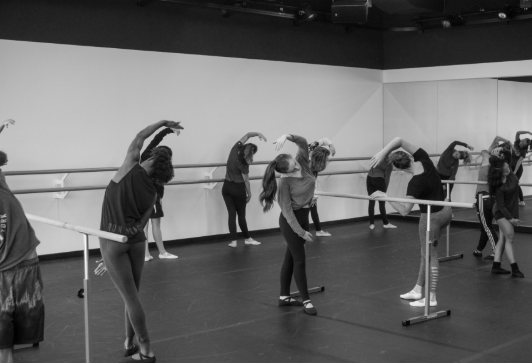 When Landis started at UCCS nine years ago, dance classes for credit were not an option.
    "We started my second year here offering dance classes, and it grew very quickly to the point where we were able to offer dance as a minor within theater and dance about 5 years ago," said Landis. "It's always been my opinion and the dance faculty's opinion that a university of our size should have a dance major."
    The new major is now being included as its own track within the VAPA program, alongside the other four major disciplines: theater, film studies, music and visual arts.
    Landis credits the growth within VAPA to the additional space provided by the Ent Center for the Arts.
    "One of the great things you have to remember is that we just opened a building at almost the same time [that Dance was approved as a track within VAPA]," said Landis, "with a couple of mixed spaces that can be used for almost anything, but importantly, are very good for dance."
    The professional dancers that perform at the the Ent Center for the Arts were brought in at the perfect time, said Landis. "Our majors can work on classes all day and then go see one of the great dance companies of the country downstairs."
    Holly Seidcheck, a theater major minoring in dance says that the Ent Center changes everything for majors in the VAPA program.
    "We're connected to so many professional companies," said Seidcheck. "Huge names are coming to our doorstep and teaching us classes."
    The Ent Center officially opened in the Spring of 2018, which coincided with dance being approved as a major.
    A professional dancer with the Ormao Dance Company, David Foster is also a student at UCCS. He's one of the first dance majors to declare.
    "Being a dance major for me is going to help put that box on my resume as a professional dancer. It's like that next step, that next boost," said Foster.
    Foster is dedicated to dancing as his career, having taken classes both at UCCS and Pikes Peak Community College.
    "The theatre department is really great as well, so I was enjoying that a lot, but then once they offered the dance major [it made sense] because that's already my trade, that's already my profession," said Foster. "I really enjoy the way that our program does allow me to take multiple avenues to build a degree. It's a good program to explore the avenues and find what you really enjoy doing."