Sept. 2, 2013
Taylor Eaton
[email protected]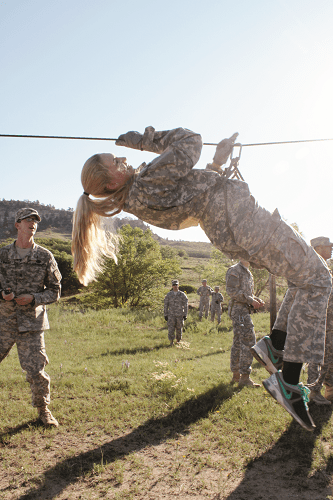 Volleyball Head Coach Chrissy Elder knew exactly what she was doing when she signed her players up to work alongside ROTC cadets Aug. 24 in the cadets' multiple training exercises.
"It's part of the [Division II] mentality. A life of balance, including community, school and academics, not just volleyball. Including ROTC seemed to work because it includes working together and leadership," Elder said.
Eleven members of the volleyball team divided into smaller groups with 13 participating cadets. The three blended teams of eight worked together through their first task, land navigation, which started at 7 a.m.
During the land navigation, the teams were sent with maps to find checkpoints along territory south of Pulpit Rock.
After the hour-and-a-half-long land navigation, teams were sent to flip semi-truck tires. From there, one team strapped up and conquered the rope bridge while others went to hunt the enemies in paintball.
"It's a two-person paintball team – one volleyball player and one cadet. They have to cross the finish line while trying to shoot the two bad guys and avoid getting hit themselves. If the volleyball player or cadet get hit, there is a 5-second penalty [before they can cross the finish]," said Mark Thompson, LTC and military science professor.
Sophomore Grace Gordon and Cadet John Gary united for the two-person paintball challenge.
"It was really fun," Gordon said. "I got hit in the leg and he [Gary] got hit in the face. I think it shows good teamwork and leadership. Gary was good, he had my back."
Junior Amanda Bloom saw the experience as a great way to not only have fun but also meet more of her fellow Mountain Lions.
"I think this is really cool that we get the chance to do this and meet other people from the school. It's also giving us more team bonding," Bloom said.
Bloom and her fellow volleyball teammates Samantha Schroeder, Cassidy Bush and Emily Whitelaw were teamed up with cadets Jacob Camacho, Hunter Frey, Orrin Lewis and Matt Yersak.
"The guys are funny and they are really taking this seriously," Bush said.
"They [volleyball players] are learning that they are tougher than they thought," Elder added.