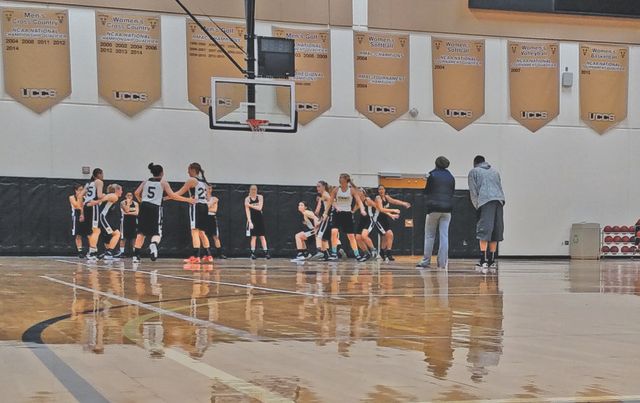 Nov. 16, 2015
Hannah Harvey
[email protected]
While some students are hosting out-of-town family, the women's basketball team will host out-of-town opponents.
UCCS will play two games over fall break at the Gallogly Events Center, on Nov. 24 at 7 p.m. against Johnson & Wales University from Denver and on Nov. 28 at 5:30 p.m. against Saint Martin's from Washington.
These two games will complete the non-conference schedule for the Mountain Lions, who will then enter RMAC play.
UCCS was picked to finish second in the RMAC in the preseason poll. Predicting how the games will play out, though, can be difficult.
"I think that it's hard to predict, but we have a different connection on the team. We're working a lot harder this year," said junior forward and health sciences major Tori Fisher.
Senior guard Gabby Ramirez, a criminal justice major, was unsatisfied with the poll results.
"I feel like this is our chance to prove everyone right and I honestly feel like we should've ranked number one [in the RMAC poll], so this is just a reason to play really well," said Ramirez.
Fisher added that last year, the team's defense was a weakness, but this is an element that they have been working to improve this season.
"Coach [Shawn] Nelson has been preparing us mentally and our practices focus on energy and competition," said
Fisher.
"Our defensive mindset is very in tune with everything and our offense is getting to where it needs to be as well," added Ramirez.
The Mountain Lions do not compare themselves to their opponents. Ramirez said the team does not watch film of their opposition, but instead focuses on what they can do to improve themselves.
But one thing the team can compare is the size of their opponent.
"In the past, Johnson & Wales had a smaller lineup. We have a lot bigger players. They will play more outside, so post-play will have to defend the outside," said Fisher.
Fans can expect the team to display a quick pace of play.
"You can expect a really high energy, fast-paced game. We like fast break opportunities, in comparison to other teams," said Fisher.
Before the fall break games, UCCS is at home to take on California State – East Bay on Nov. 20 and Northern State on Nov. 21. Both games tip-off at the Gallogly Events Center at 7:30 p.m.