On Saturday, the UCCS-hosted 2021 Mountain Lion Classic wrapped up as the UCCS women's volleyball team walked away from the series with a winning record on the week, going 2-1 in three extremely close matches over two days.
With all three matches at home, the Mountain Lions opened the series on Friday against Texas A&M International for the first time since 2015. UCCS pulled off their first victory in a 3-2 win against the Dust Devils, the first in school history.
UCCS was led by outside hitter Lauryn Shockley with 23 total kills, while her and libero Jordyn Kinsey each added 16 digs to the defensive side to help keep the Mountain Lions on the attack.
The Mountain Lions dropped the first two sets but won back the next three to give them the close victory over Texas A&M International.
Following their morning match against the Dust Devils, the Mountain Lions had another volleyball date set with the Williams Jewell Cardinals, a team that UCCS had lost to just a week earlier in the Washburn Invitational in Topeka, Kansas.
     However, the Mountain Lions rallied to take three of four sets from the Cardinals and walk away with their second win of the day, 3-1.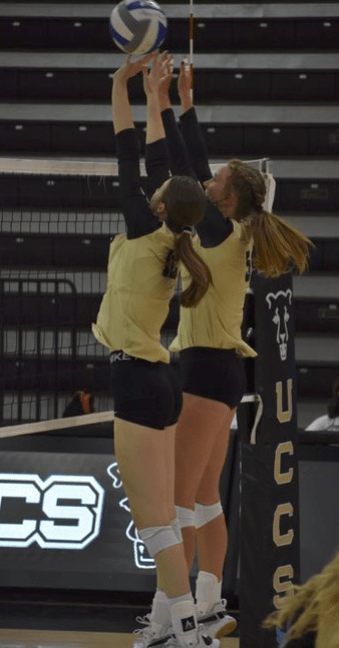 This match saw a group effort on the offensive ambush. Shockley, Camden Strain, Grace Ferguson and Hannah Ammerman all contributed double-digit kills to UCCS. Shockley and Ammerman had ten digs a piece to keep the ball alive against the Cardinals.
After capping off their Friday with two straight wins, UCCS had another important matchup when they faced the Lubbock Christian Chaps, who had lost to the Mountain Lions two seasons ago.
UCCS leaped out to a two-set advantage over the Chaps, but Lubbock Christian won their next two and the eventual winning tiebreaker to end the Mountain Lions' hopes at going undefeated in their own classic series.
Although they did not get the outcome they wanted, Shockley once again proved how dominant she was out front, leading all scorers on the court with a towering 26 total kills, feeding off of Abbie Boren's match-leading 54 assists.
Following this series, the Mountain Lions now have a positive record at home, something that might bode well for them in the coming days, as three out of their next four matches will be at home, in the Gallogly Events Center.
     The Mountain Lions are scheduled to begin their regular season play on Wednesday against the Thunderwolves of CSU Pueblo, where UCCS has the opportunity to break their two-match losing streak to the Thunderwolves and regain their momentum for the remainder of the season.