16 October 2018
Israel Wheatley
    Originally opened in 1956, King's Chef Diner lives up to its name in serving king-sized portions and catering to Colorado Springs guests as if they were royalty. Their second location, located downtown across from Acacia Park, not only supersedes other diners in its unique style, it has also garnered multiple awards, and recognition across the nation for its delicious and hearty meals.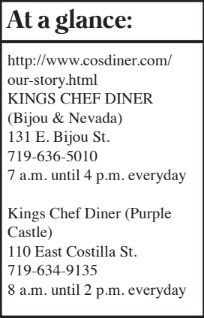 Even at 9:30 a.m. on a cold Saturday morning, this diner gets packed. With a line of people waiting to be seated, you may be just lucky enough to get a spot at the bar within a minute. Otherwise, you could be waiting outside.
    The servers will immediately start off by you telling about the restaurant and what makes the King's Chef the King's Chef: huge portions and house-prepared green chili, for two. Half and even 1/4 portions are available for order.
    Not only do the meals come pretty affordable, they also come prepared fresh and, indeed, in heaping proportions. Sitting at the bar, you can witness the cooks masterfully crack open two or three eggs at a time or fry your French toast to perfection. Whole potatoes are shredded right over the grill to make hash browns, which can take up half your plate.
    While it's a perfect place to sit and converse with friends or family, you might have to practice raising your voice to a higher than average level; dozens of people talking at once is a given at such a landmark restaurant. Lunch and breakfast are served all day, so going at calmer hours is always an option.
    The diner doesn't exactly give off the impression of being slower-paced, even during its slow times. Cooks and servers are on the go at all times, moving to the pace of Weezer and Green Day playing above the many crowded tables; the purple counters and high ceilings make sure not to mirror your typical 50s-style diners.
    King's Chef makes it clear in many ways that it's not IHOP, Gunther Toody's or Over Easy. The food and style reflect an art so unapologetic and mesmerizing that you won't feel like you're just going through the motions. Your servers won't hesitate to tell you if their favorite toast is their marbled rye, something no one anywhere else would dare tell you.
    Even the simplest meal can outdo your other run-of-the-mill breakfast items: hash browns, two eggs, two halves of toast and three slices of bacon. Simple, right?
    Not quite.
    Hash browns, which are notoriously complicated to make, are shredded straight off the potato. They won't crisp up and make a patty, leaving the middle uncooked. Care is put into serving them thoroughly browned, soft and chewy. Add a serving of their homemade green chili to give it a little kick.
    Everything is ultimately arranged on the plate symmetrically: going longways, hash browns on top and two eggs on bottom. Split toast placed on opposite ends. The bacon, thick-cut and lacking in chewy fat, sits alone on a side plate big enough to hold it.
    Aside from the basics, test your taste on the restaurant's specialties, like "The Thing": Texas toast, your choice of meat, a mound of hash browns, two eggs, all smothered in green chili and topped with cheese. Choose from three sizes: full, half, or 1/4, ranging from $7.99 to a whopping $18.25.
    Keep in mind that this is a cash-only facility: while there is an ATM at the back, it would be wise to prepare ahead of time.
    In addition to preparing your wallet, prepare your appetite. You'll want to eat like a king.