Sept. 14, 2015
Evan Musick
[email protected]
The last two years have seen a lot of physical change on campus through construction.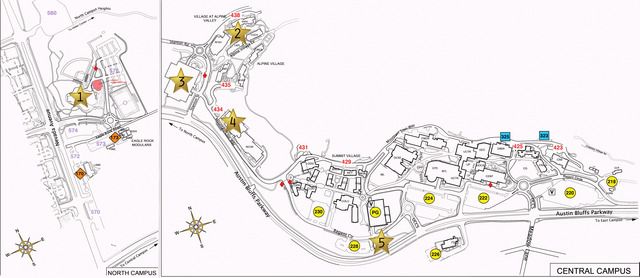 In an email, Gary Reynolds, assistant vice chancellor for Administration, explained that the continued growth has an impact on the makeup of UCCS.
"In particular, the university is gradually moving from a commuter student university (though commuter students are still a significant and important part of the student body) to a residential university."
Reynolds explained that because of this, growth is necessary.
"(This has) resulted in the need to add living and dining space, recreational space, event space, performance space, academic space and yes, parking spaces," he said.
This growth impacts students in different ways. The recreation center expansion, along with the student fees that fund the project, was voted on and approved by UCCS students in spring 2012.
But the new dorms at Alpine Valley, including Roaring Fork dining hall, are paid for only by those who live in the dorms, as the cost is covered by residence hall room and board rates.
Here is a breakdown of recent campus construction projects:
Ent Center for the Arts
-Estimated cost: $60 million
-Actual cost: Project still underway
-Multiple fund sources: State, philanthropy, president's fund, bond
-Completion Date: January 2018
Ent Center for the Arts' Parking Lot
-Estimated cost: $10 million
-Actual cost: Project still underway
-How construction is funded: University funds
-Completion Date: January 2018
Alpine Valley:
Roaring Fork Dining Hall; La Plata, Cucharas and San Juan Residence Halls
-Estimated cost: $74.5 million
-Actual cost: Project still underway
-How construction is funded: Residence hall room and board rates
-Completion Date: Roaring Fork, La Plata and Cucharas completed with small alterations ongoing; San Juan to be completed by fall 2016
Alpine Valley Parking Garage
-Estimated cost: $23 million
-Actual cost: Project still underway
-How construction was funded: Parking system fee and Recreation fee (for the field)
-Opened fall 2014
Recreation Center Expansion
-Estimated cost: $16.4 million
-Actual Cost: Project still underway
-How construction is funded: Recreation Fee
-Completion date: Open by spring semester 2016
Academic Office Building
-Estimated cost: $14.5 million
-Actual cost $13.8 million (some minor work still underway)
-How construction was funded: University funds, bond
-Opened fall 2014