Sept. 14, 2015
Jonathan Toman
[email protected]
In a room full of UCCS representatives, Tony Ensor stood out from the crowd.
The general manager of the Colorado Springs Sky Sox was at UCCS to help support a presentation that outlined a plan that will bring intercollegiate baseball, women's lacrosse, and track and field to UCCS for the 2016-17 school year.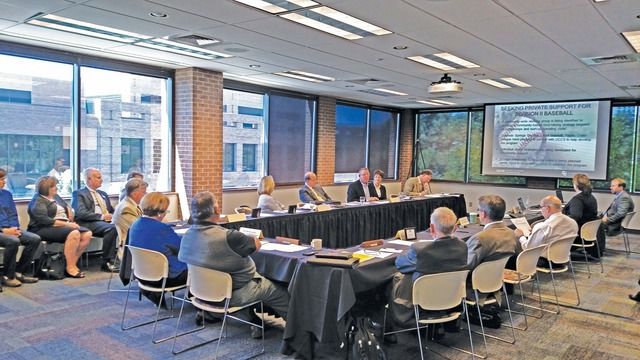 The CU Board of Regents heard a presentation from UCCS representatives chancellor Pamela Shockley-Zalabak, athletic director Steve Kirkham and vice chancellor for Administration and Finance Susan Szpyrka on Sept. 10.
Kirkham said the addition of the three sports will bring approximately 160 new students to campus next fall, 50 for women's lacrosse and baseball and 60 for track and field.
Shockley-Zalabak explained that academic excellence is tied with the athletic expansion.
"Excellent students are not coming to UCCS because we don't have these sports," she said.
Improving student experience, increased student demand for spectator sports and the excellence of the athletic program were key to the conversation of expansion, she explained.
The RMAC already has a strong presence in baseball and women's lacrosse, and while UCCS already has a track and field team, the athletic department has "not put a lot of emphasis" on the program, according to Kirkham.
The addition of the three sports requires an increase in the athletics fee paid by students. It would be put to a student vote this spring.
Kirkham explained that even if the fee did not pass, athletics can get by for the first year with other funds. He anticipates hiring coaches in January.
Ensor offered his support for the addition of baseball at UCCS and explained the positives of bringing division two baseball to the community. Often, he said, the best athletes and students in town go out of the city or state.
"Colorado Springs is a very baseball knowledgeable town," he said. "The community really rallies behind baseball."
"I encourage it as much as I possibly can."
Ensor also highlighted the existing relationship between the Sky Sox, the Triple-A affiliate of the Milwaukee Brewers, and UCCS. The Sky Sox also partners with the Sport Management Program to offer a scholarship.
He added that the marketing potential for UCCS would be enhanced with a baseball team, as local media might be forced to cover the team, especially if they are successful.
Martin Wood, vice chancellor for University Advancement, echoed Ensor.
"This is sort of a no-brainer," he said. "Getting the community support is going to be pretty much a cakewalk."
Wood, who also teaches the Gateway Program Seminar class "Baseball: Hot Dogs, Home Runs, and Life," explained that a working planning committee is being formed; part of its role will be to develop individual donor strategies to help meet the startup costs of a baseball team.
In addition, Wood is looking to host a fundraising event in January or February.
For facilities, Szpyrka explained the women's lacrosse team could use Mountain Lion Stadium. For baseball, partnerships with the Sky Sox and the City of Colorado Springs would be explored to share fields before UCCS completes its own facilities.
A return to the Board of Regents is needed once plans for construction of UCCS facilities begin.
"We have to address the facilities issue over time," said Shockley-Zalabak.
Initial feedback from the Board of Regents was supportive.
"Awesome, I like it," said regent Steve Bosley. "I think it seems well thought out."
"For high school students across Colorado, this could be a very exciting place to play baseball," added regent Linda Shoemaker.
Women's lacrosse and baseball would begin play in spring 2017, while track and field would start with the indoor season in January 2017.