April 11, 2017
Gabbie Matl
     Students interested in supporting the military and veteran community can break out their running shoes and hope for good weather at the end of April.
     The Gallogly Recreation and Wellness Center will host the 16th annual Bash the Bluffs 5K run in memory of Ed Burke, former UCCS biology professor on April 22.
     The race will begin at 8:30 a.m. and is open to students, faculty and staff, along with the Colorado Springs community.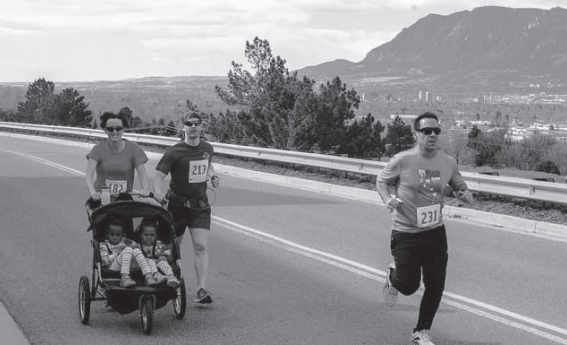 All proceeds from the race go toward the Ed Burke Memorial Scholarship Fund, a merit-based award for students majoring in exercise science.
     Included in this fee is a T-shirt and "swag" bag, and all ages and skill levels are encouraged to participate.
     Nationally, Burke was known for his books and research on cycling, nutrition, sports and exercise physiology. As an avid bicyclist, he trained many Olympic cyclists for several of the Olympic games.
     Along with Burke, the Rec Center will also honor the local military and veteran community.
     UCCS ROTC, the Wounded Warrior Project and Team Red, White and Blue, a group that helps veterans reconnect to their communities through social and physical activity, will also sponsor the event.
     The course will begin and end at the campus recreation center and is a hilly route that loops around the campus.
     The route is both stroller and dog friendly, and aid stations manned by volunteers will provide water and medical attention along the route.
     An awards ceremony will begin at 9:45 a.m. The top three overall male and female finishers will receive awards, as well as top participants in nine age brackets.
     Prizes include Nike running hats, half-hour massages at the Wellness Center, free group fitness passes and heating pads.
     New age groups were added this year based on prior participant feedback to make the race more competitive for all age groups, said Brooke Freudenhammer, coordinator of Aquatics and Fitness at the Rec Center.
     According to Freudenhammer, Colorado Springs has a strong running culture. The majority of racers are community members from all walks of life, with more than 40 participants over the age of 50 in this year's 5K.
     "We love to see people from all ages who are still actively engaged in their fitness; that's what we really strive and work for," said Freudenhammer.
     Students, faculty and staff can register in person at the Rec Center, or email all forms found at uccs.edu/recwellness/ to Freudenhammer at lfreuden@ uccs.edu.