April 18, 2016
Abbie Stillman
[email protected]
GOCA is hosting coal-themed art exhibit "Bituminous" until May 21 at GOCA 121.
The objective of the exhibit is to bring awareness to the impact of coal consumption on the environment in a fun and creative fashion.
"This exhibit features four contemporary artists who are all engaging with the theme of energy and really reflecting on coal in particular," said Nicole Anthony, GOCA's community cultivation director.
The exhibit features the work of William Carson, Carlon Tapp, Amelia Carley and Michael Bernhardt. Each artist focuses on a different aspect of coal consumption, including the impact of coal consumption on varying communities.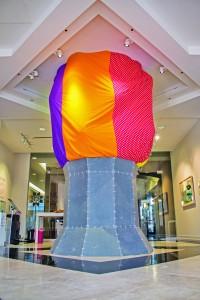 Carley's oil paintings display a macro view of coal and Bernhardt uses long white socks to joke about coal consumption not being bad for you.
GOCA has been around since 1981, and the downtown gallery has been there since 2010. The two galleries, GOCA 1420 and GOCA 121, show eight to ten exhibits a year, according to GOCA director Daisy McGowan.
"Bituminous" is part of a city-wide art show started by McGowan in 2011. There will be 15 art organizations participating by presenting exhibits and lectures, according to McGowan.
"The exhibit is called 'Pollinate' and we decided on a theme of energy, which is why our show is about coal," said McGowan.
The exhibit is a part of a larger, city-wide discussion according to Anthony.
"It's a good conversation to have. Where are we going with energies and consumption and what is the toll on our environment? Our four artists are investigating those questions," said Anthony.
GOCA exhibits have varying themes every year but this is the first time they have done an exhibit on energy.
"A lot of our exhibitions feature national, international and regional artists. In this exhibition, a lot of these artists are actually pretty local," said Anthony.
The four featured artists will feature their own styles to explore different aspects of coal consumption. Carson incorporated coal into his art.
"(Carson) is using actual coal as the material he's painting and sculpting with; he collected and harvested all the coal from his family's farm in Montana. He photographed the experience of traveling around and the people he met on the way," said Anthony.
Tapp, another featured artist, is a photographer interested in how communities are affected by coal consumption.
"These photos are called China Express, they are showing train cars carrying coal from the U.S. and Canada
to be shipped off to China," said Anthony.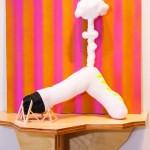 Carley will provide oil paintings that display a macro view of coal.
"Her work shows off the beauty of coal in a print process stage by stage where at first it's completely black and goes completely white," said Anthony.
Bernhardt incorporated humor into his pieces through the use of long white socks to display the idea that "coal gives dirty air the boot," according to Anthony. "He has this very satirical, tongue-in-cheek way of engaging with a really serious issue."
Students can find out more about the exhibit at www.uccs.edu/goca/ART/POLLINATE-BITUMINOUS.html.
The Lowdown
What: 'Bituminous'
When: Through May 2, Wednesday to Saturday, Noon to 5 p.m.
Where: GOCA 121, 121 S. Tejon St.
How much: Free to students