April 18, 2016
Kyle Guthrie
[email protected]
Due to low temperatures, the Rec Center announced on March 19 via Twitter that the pool had been closed to users.
The temperature of the pool dropped to below 75 degrees due to a mechanical failure in the heating equipment, which is below acceptable standards.
The pool has a backup solar-powered redundancy system, but the cloudy weather over spring break prevented the system from providing additional heat to the pool, according to associate director of operations at the Rec Center, Matt Gaden.
Gaden explained how the pool is maintained.
"Water chemistry is a critical part of effective swimming pool operations. We have a number of things that have to be balanced and work in coordination with each other," he said.
Gaden said that the situation during spring break was rare.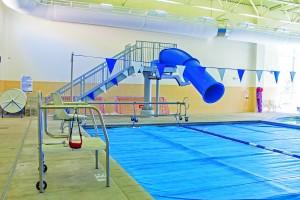 "It is not a normal situation," Gaden said. "But after the boiler malfunctioned it has taken time to get the proper parts procured, ordered and shipped."
Gaden said boilers, pumps, filters and chemical systems all need to be maintained and repaired when they have issues.
The pool will typically see 50-100 swimmers a day, according to Gaden, with additional swimmers in events such as intramural tournaments or large group activities.
While several swimmers may have been out of commission during spring break, some students interviewed said they were unaware of the pool's closure.
"I almost never use the pool," said Niccolo Bluhm, senior electrical engineering major. "I didn't know it was shut down (during spring break)."
"I had no idea it was even shut down over spring break, I actually don't ever even use the pool at the Recreation Center," said Gina McBroom, a senior English major.
"I just figured people use the Rec Center for the gym."
The pool was reopened April 15, according to the Rec Center Twitter account.