19 March 2019
Travis Boren
    Commuter students became stranded after the March 13 blizzard hit campus.
    According to data by CBS Denver, barometric pressure was equivalent to a Category 2 hurricane with peak wind gusts in Colorado Springs reaching a maximum of 96 mph. Snowfall in the UCCS area was about 9 inches with snow drifts reaching 3.5 feet.
    The night before, a safety alert went out saying that UCCS would monitor the weather as it developed, with tentative plans to close campus at noon, an hour before weather forecasts predicted the storm to intensify.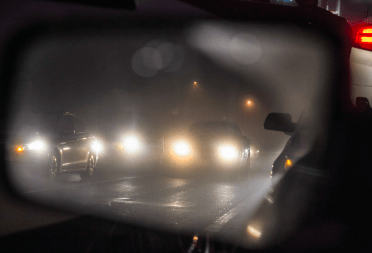 Shortly after 10 a.m., an alert went out verifying that campus would close at noon Winds picked up around 11 a.m., before campus was supposed to be closed.
    Some commuter students who left campus after 11 a.m. became trapped as white out conditions ensued.
    Christel Arobel, a senior biomedical student, became stuck on her trip home to Falcon after white out conditions were so extreme that she could no longer see where the side of the road was.
    Arobel, expecting the commute home to be difficult, arrived to campus 20 minutes before her 9 a.m. lab was schedule to start to try and get it done early. When she finished around 10:30 a.m. the snow and wind were picking up.
    Arobel had the option to stay home, but chose to go to her lab because she wanted a better grade on the assignment.
    Because she did not know how long the storm would last, Arobel stopped at a grocery store for 10 minutes for last minute supplies.
    "As soon as I passed St. Francis and Powers, drivers were getting slower," said Arobel.
    When she went to turn toward her neighborhood, the storm increased in intensity. She had no idea what direction she was facing, and decided to pull over and get her bearings using her compass.
    After traveling for a bit longer, Arobel decided to move to the side of the street and park. While waiting, two cars hit her as they tried to force their way through the snow, with her windows iced over from the snow.
    Arobel stayed in her car until El Paso County Search and Rescue found her at around 5 p.m.
    "I was shocked by the lack of closure, because UCCS is normally good about closing preemptively," said Arobel.
    Logan Davel, a senior chemistry major, spent the day helping people stuck in the snow after he made it to the top of the hill near Austin Bluffs Boulevard and Stetson Hills Boulevard.
    Davel left campus around 1:30 p.m. after cleaning and closing up the chemistry lab. Traffic was stop and go as people got stuck in the ice and snow.
    For four hours Davel helped people stuck going up the hill.
    "People were just spinning their tires and it was crazy," said Davel. "People were not moving at all." Davel said that seven other men helped him push and tow vehicles up the hill, and Davel believes that if he and others had not stopped to help people they would still have been stuck until morning.
    "I don't have any attachments," said Davel. "I have my family, but I don't have kids or, like, a medical job. So I had the time to be able to help people, but other people were trying to get to their kids. Some of them were doctors and nurses that had been called in."
    Davel suggested that people avoid main roads during heavy snow fall because there is less of a chance to get stuck by traffic and snow that has been compacted into ice, and to have a route planned out in advance based on landmarks.
    Those on campus, while they had campus to shelter in, were barely in a better position.
    Jessica Johnson, a senior history major going for her special education license. Johnson works at the Family Development Center, and was not able to leave until all of the children had been picked up.
    Johnson lives on campus, and felt that walking home at noon would have been dangerous and was able to get her boss to give her a ride, a drive that is normally three minutes became 10.
    "I feel like UCCS should have heeded the warnings, especially after the vast majority of the city had shut down," said Johnson. "They shouldn't have waited until 10 a.m. to make the call."
    Josh Villanueva, a freshman business major, was trapped on campus and ended up staying the night in the dorms with friends.
    When he arrived on campus Wednesday morning, he parked in the dirt lot and walked to the Engineering Building. After he left class he had food at Roaring Fork while watching the blizzard worsen, and decided to spend the rest of the day in the doors.
    "There was no way I was going to drive through that," said Villanueva.
    Villanueva attempted to see if he could stay in a vacant dorm room, but said he was told they were reserved for stranding staff members.
    On Thursday, Villanueva did not think he could make it off campus with the ice pack on the roads, so he stayed with friends in the dorms again and attended his Friday morning class.
    After class, Villanueva attempted to leave the dirt lot and was unable to because the snow, which had not melted yet, prevented his wheels from getting traction.
    According to UCCS Police Chief Marc Pino via email, the process to close campus starts with Scott Smith, the emergency manager, sending National Weather Service (NWS) forecasts to the Police Department and the Vice Chancellor of Administration and Finance Charles Litchfield.
    Using the forecast, facilities and the Police Department will establish a plan of action for preparing the campus for operation and making sure that it is safe for students, staff and faculty to travel to and from campus.
    "Unreasonable risk or danger is the touchstone in the decision to close the University," said Pino. "While utmost consideration is given to condition for travel, the university of Colorado Colorado Springs continues to function during inclement weather."
    Pino said that we experience more severe weather than other cities regularly, so the university and the city is more equipped to handle it.
    Litchfield agrees, saying that we have a good snow removal team. The first thing they evaluate is if they can make campus safe. Then they try to make transportation on campus safe and make parking lots and roads passable for vehicles.
    "Ice was a large contributor to two delays this semester," said Litchfield.
    Litchfield said that they try to make sure it is safe for commuters.
    "The students that don't live here, that have to commute onto campus, we try to look at what the major arteries that feed into campus look like," said Litchfield. "So we look at the major thoroughfares and see how the city is progressing on clearing those."
    According to a follow up statement via email, Litchfield said the safety of the university is always the foremost in the administration's minds.
    "This blizzard was the worst since 1998. However, even the NWS prediction didn't measure up to the experience. At the time we made our plan, NWS had issues a blizzard warning saying to expect wind gusts to 60-70 mph," said Litchfield. "The actual experience was upwards of 97 mph at the COS airport. The rapidity and intensity of the storm exceeded predictions."
    The noon closure plan was made based on information from before the storm started.
    "The 10 a.m. call to cancel classes at noon was based on campus conditions and the expected progress of the storm. Conditions deteriorated rapidly after we made the call at 10 a.m.," said Litchfield.
    According to Litchfield, the blizzard taught them that RAVE announcements are effective enough to more quickly communicate a closure in the future and that they need to extend the range from campus when considering commuters.