Sept. 23, 2013
Alexander Nedd
[email protected]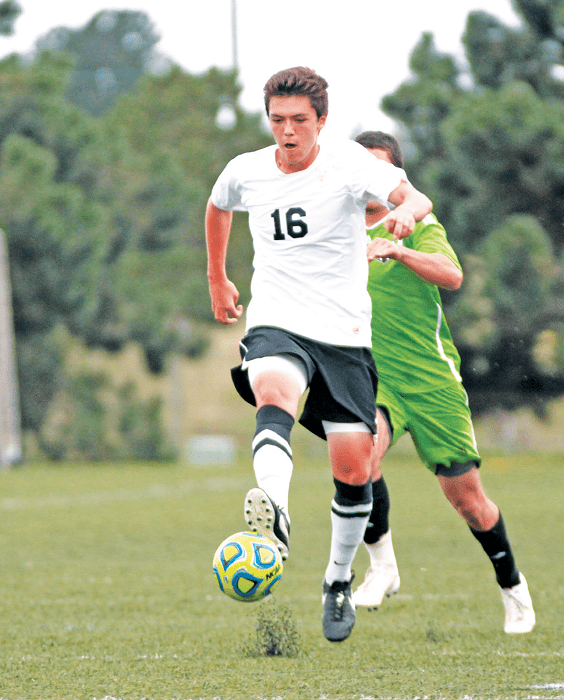 School has barely been in session for four weeks, yet J.R. Calhoun is already making some noise.
Calhoun, a freshman, left his home town of Canyon Country, Calif., to begin a journey in sport management and play as a center midfielder for the UCCS men's soccer team.
"[When I] came to UCCS, I had no idea I would play soccer," said Calhoun, who attended the school's soccer camp where they found an interest in his skills.
"It's definitely a change of pace from high school," he added about the level of play in college. "In college, you have to be on your toes. There is a lot more athleticism involved."
Indeed, athleticism is what Calhoun is about. In his first game, Calhoun was able to score two goals against St. Mary's of Texas, helping the team snag their first win of the season.
"It was a good game. I wanted to give it my all," Calhoun said. "It was kind of right place, right time."
Head Coach Johnnie Keen has been impressed with the ability and skill Calhoun has shown this early in the season.
"J.R. is really doing a great job," Keen said. "He came in off the bench as a sub and was able to take it. We're excited about him this [season] and the four years we have left with him."
Both Keen and Calhoun highlight the importance of working together as a team. "I love my teammates. It's a pretty close-knit family," Calhoun said.
"Since our upperclassman know it, it's crucial. The chemistry of our team is really important in order to be successful," Keen added.
Outside of sports, Calhoun is adapting to his new city and freshman life at UCCS. "I like to skateboard. I'm waiting for snowboarding to come around," Calhoun said.
When Calhoun isn't hitting the field or the books, he especially likes to go to concerts. "My favorite artist would have to be J. Cole," he said, referring to the American hip hop artist.
"On campus, I like to hang out with the other freshmen," Calhoun added. "We like to play FIFA."
Calhoun knows the importance of balancing both sports and his studies. "I hope to raise my team's GPA score," he said.
He also has high hopes on the field. "I hope to get a starting spot, but if not, I hope to help out the team and get as many goals as I can," Calhoun said.
Calhoun and the team's next game is Friday, Sept. 27 at 7 p.m., when they will take on Fort Lewis at Mountain Lion Stadium.